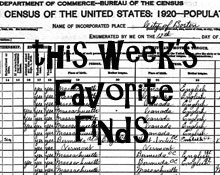 First of all, I want to say that I won't be here next week.  We are taking Spring Break and heading out on the open road – no reservations or anything.  Some people might call us crazy, but we think it's more fun that way.  We'll be driving a loop around New Mexico and Arizona in about 6 days hitting Santa Fe, the Grand Canyon, Phoenix, Tucson, and Tombstone (among many other places) along the way.  Maybe camping, maybe staying in hotels.  Not sure yet, but it should be fun!!  I'm looking forward to getting out of town for a bit, especially since I found out that we're probably going to be staying here in El Paso for another year or two (when I had thought that we'd be leaving in June).  Such is life.
On the genealogy front, I have done even more Swedish research and am starting to wonder if the man I think is my ancestor really was a step-father to my great-great grandmother instead of her father.  She was born out of wedlock, so I've been having a hard time confirming it and have been trying to find the family in the household examinations, but it's been taking a long time.  A very long time. 🙂  I'll keep at it though!!
I also received a precious death certificate in the mail yesterday, which really fleshed out the life of my husband's English ancestor.  I will post more on that in a few days.
On to some of my favorite finds this week:
And a few pictures to share from this past week: