Elizabeth Thornton Ehret, was the daughter of Edward Thornton, a brother to my 3rd great-grandfather, James Patrick Thornton.
19 July 1927, Alton Evening Telegraph, Alton, Illinois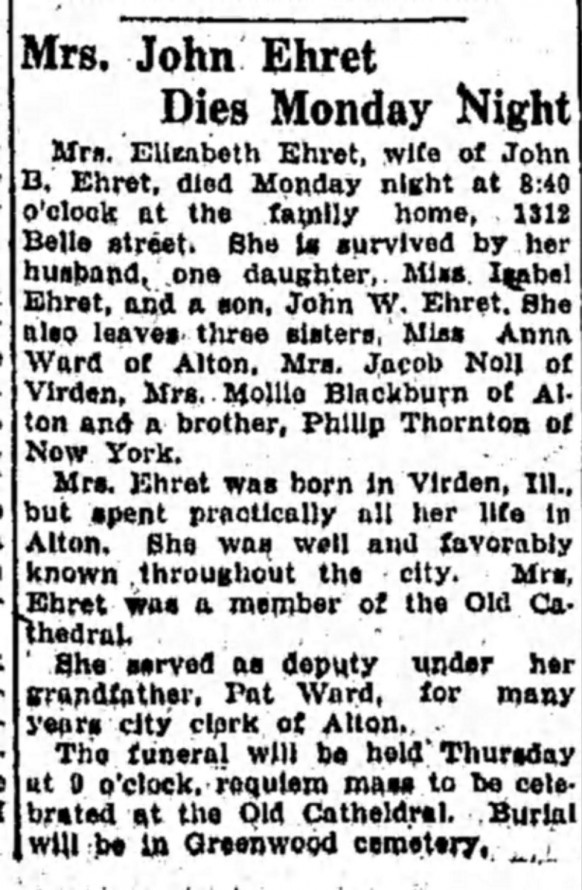 Mrs. John Ehret Dies Monday Night
Mrs. Elizabeth Ehret, wife of John B. Ehret, died Monday night at 8:40 o'clock at the family home, 1312 Belle street. She is survived by her husband, one daughter, Miss Isabel Ehret, and a son, John W. Ehret. She also leaves three sisters, Miss Anna Ward of Alton, Mrs. Jacob Noil of Virden, Mrs. Mollie Blackburn of Alton and a brother, Philip Thornton of New York.
Mrs. Ehret was born in Virden, Ill., but spent practically all her life in Alton. She was well and favorably known throughout the city. Mrs. Ehret was a member of the Old Cathedral.
She served as deputy under her grandfather, Pat Ward, for many years city clerk of Alton.
The funeral will be held Thursday at 9 o'clock, requiem mass to be celebrated at the Old Cathedral. Burial will be in Greenwood cemetery.