I was approached by Custom Family Tree Art and asked if I would like to receive a custom-made family tree in return for a review.  I had been drooling over them for a while, so I jumped at the opportunity!
The trees are truly custom. You're not simply choosing a template and entering in your information.  You get to make all of the decisions along the way and make it a piece of art that truly reflects your style and preferences.
I thought I'd quickly walk you through the process and let you see how you can design your own!
To start with, you need to decide what type of tree you want (descendant or ancestor) and what type of print.
The descendant tree would be a lovely gift for an older relative.  It would also work well if you wanted to choose one of your "favorite" ancestors and show all of their descendants through that line.
I personally chose an ancestor tree in a gallery wrapped canvas.  I wanted to show our family (my husband and I with our ancestors and our children).
They also offer standard prints, fine art paper, mounted and textured, and ready to frame canvas.  I like ready-to-hang. 🙂
I chose a  4-generation tree for a couple.  The other options were 4 or 5 generations for a single person.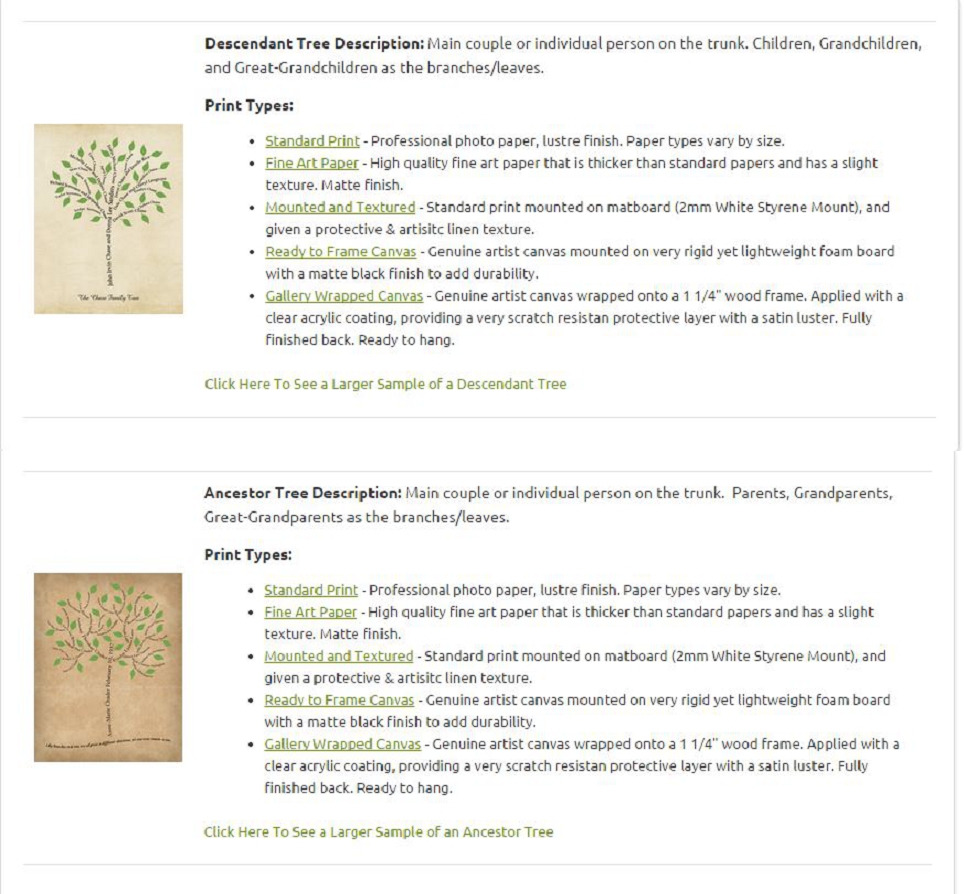 Once you've made your choice, this screen will pop up, and you need to download the form for the tree you've chosen. The process was very easy. Don't be intimidated by having to download something to your computer.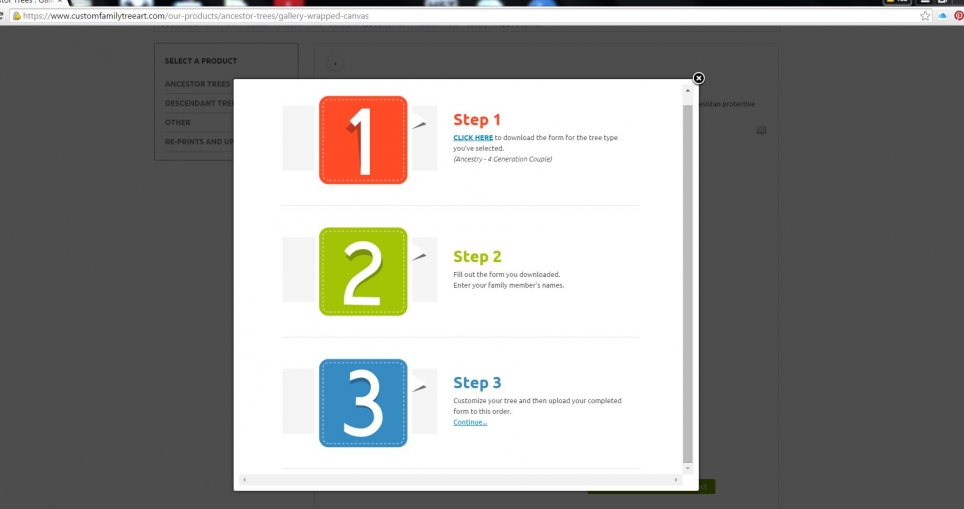 I filled out my form, double and triple checking that I spelled everything correctly.  It would be just my luck that this was the moment I made a typo and didn't notice it….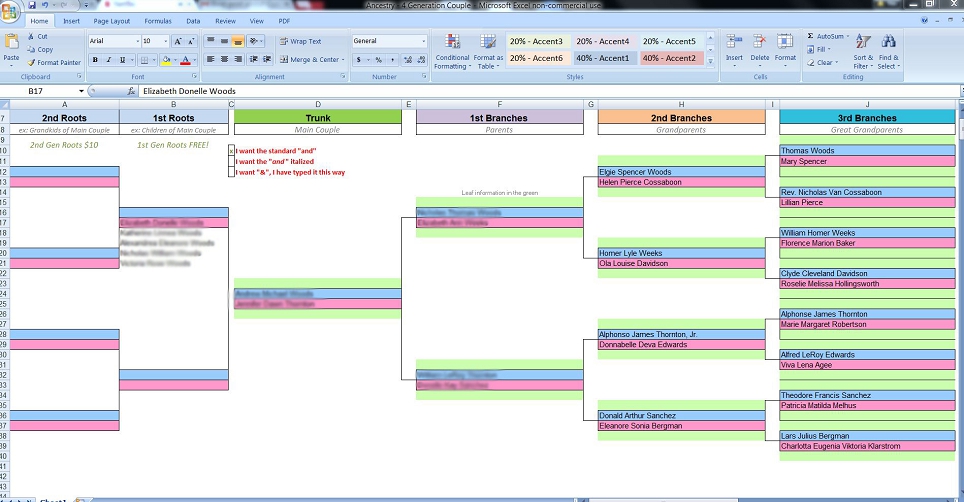 The next step is to choose which branch style you want. I chose style 1.
There is also the option to add roots to your tree.  Since I have 5 children, I thought that the roots would look nice.  If you have grandchildren, you can actually have two generations.

You also get to decide if you want leaves on your tree. I like my trees full and green instead of winter bare – although they both look nice.

The hardest decision for me was choosing the background color.  I was drawn to a few of the different designs and was stuck on making a decision. 

Here are some examples of trees.  Such possibilities!!! I really liked the blue sky with the ground, the dark brown, and the chalkboard. I went back and forth. And back and forth.  I'll come back to this step later. They all look so nice, don't they!


You can then add your family's name and the year you were "established" on the left side.  You can also add a quote to the right. I did both. 🙂

I chose this quote, since it was on the topper to our wedding cake and I've always loved it:
"Grow old along with me, the best is yet to be"
If you can't think of anything special or clever to put on your tree, they have a page with suggested quotes to choose from.
You also have the option of putting a quote across the bottom of the tree.  Mine was already put on the right, so I chose not to add another.

Next is the size.  Think about where you're going to hang your picture and how visible you want the names to be.  Will it be above your mantle? Near your front door?  You may want a different size, depending on where it will be displayed.
The choices are : 8X10, 11X14, 16X20, 20X24, and 24X30.  I got an 11X14 and it's perfect for the space I chose to hang it (on a dividing wall between my kitchen and living room – a place where I can constantly admire it).
Always go a little bit bigger than you think you want it.  You would be surprised at how small an 8×10 looks on an empty wall.
You can then enter in my blog name on the referral tab!!  I'd appreciate it. 🙂
If you'd like the digital image in addition to your print, you can pay extra for it.
When you've done all of this, you simply upload your file and send in your order.
These are the three trees I narrowed it down to:

I polled my Facebook friends to see which they preferred, but when it came down to it, I made my own decision. I was really drawn to the dark brown.  I made my choice and put my order in.
I received my canvas in the mail a few days ago and I have to say that I was pleasantly surprised.
First of all, the customer service was outstanding and the turn-around time was very quick. It came much earlier than I expected.
Secondly, I knew that I would like the tree, but I didn't realize how much I would LOVE it!!  The quality is excellent, the colors vibrant, and the details make it so special.
Here it is!!

Even the backing is fully finished and well made.  I unpacked it and hung it directly on the wall within minutes.

This would make a perfect gift for a loved one.  I know that it's often hard to shop for presents – finding something that is meaningful.  Wouldn't it be nice to give them something special?  Something they'd want to hang on the wall for years to come? Standard shipping is free through Mother's Day by using the code SHIPFREE at checkout.