It's always sad when a mother with small children dies before her time.
Anna O'Connor Mullen left behind 5 children. I'm now curious as to what happened to them.  Did they live with family?  Were they adopted?  I have more searching to do….
2 July 1909, Dakota County Herald, Dakota City, NE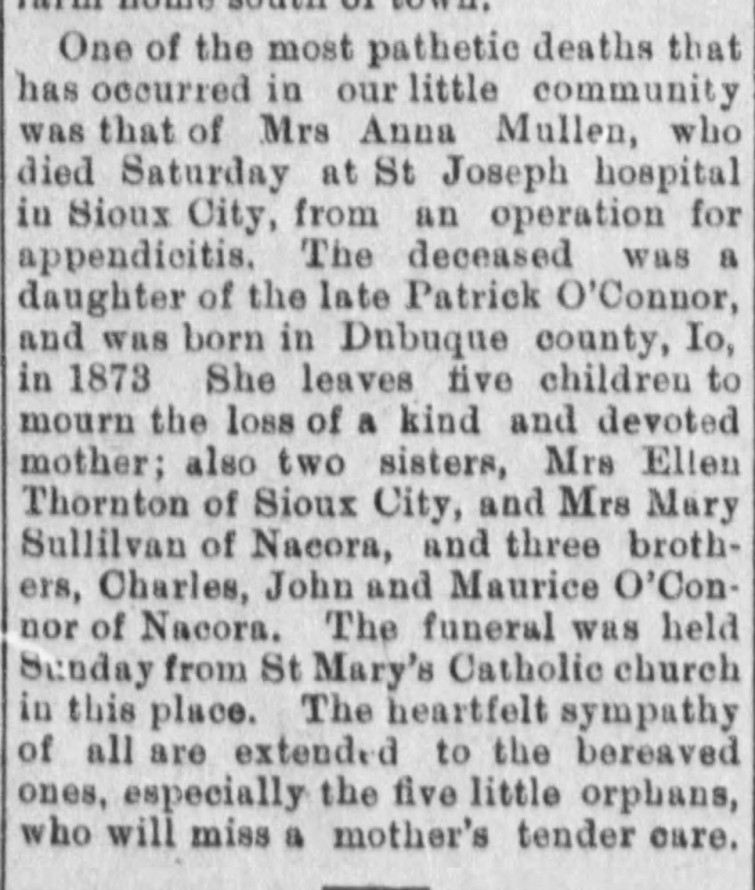 One of the most pathetic deaths that has occurred in our little community was that of Mrs. Anna Mullen, who died Saturday at St. Joseph hospital in Sioux City, from an operation for appendicitis. The deceased was a daughter of the late Patrick O'Connor, and was born in Dubuque county, Io, in 1873. She leaves five children to mourn the loss of a kind and devoted mother; also two sisters, Mrs. Ellen Thornton of Sioux City, and Mrs. Mary Sullivan of Nacora, and three brothers, Charles, John, and Maurice O'Connor of Nacora. The funeral was held Sunday from St. Mary's Catholic church in this place. The heartfelt sympathy of all are expected to the bereaved ones, especially the five little orphans, who will miss a mother's tender care.