My 4th great-grandfather, Francis Pottgen, is a mystery to me.  For years, I thought that he died in 1853 (according to his wife's mother's pension for their son's death during the Civil War). I was surprised a few months ago when I found this divorce notice in a 1853 Alton, Illinois newspaper.
It states that Francis couldn't be found.
Francis Pottgen and Sophia Ross were both born in Germany/Prussia and married in St. Louis in 1835. They were living in Alton, Illinois in the 1840 and 1850 census.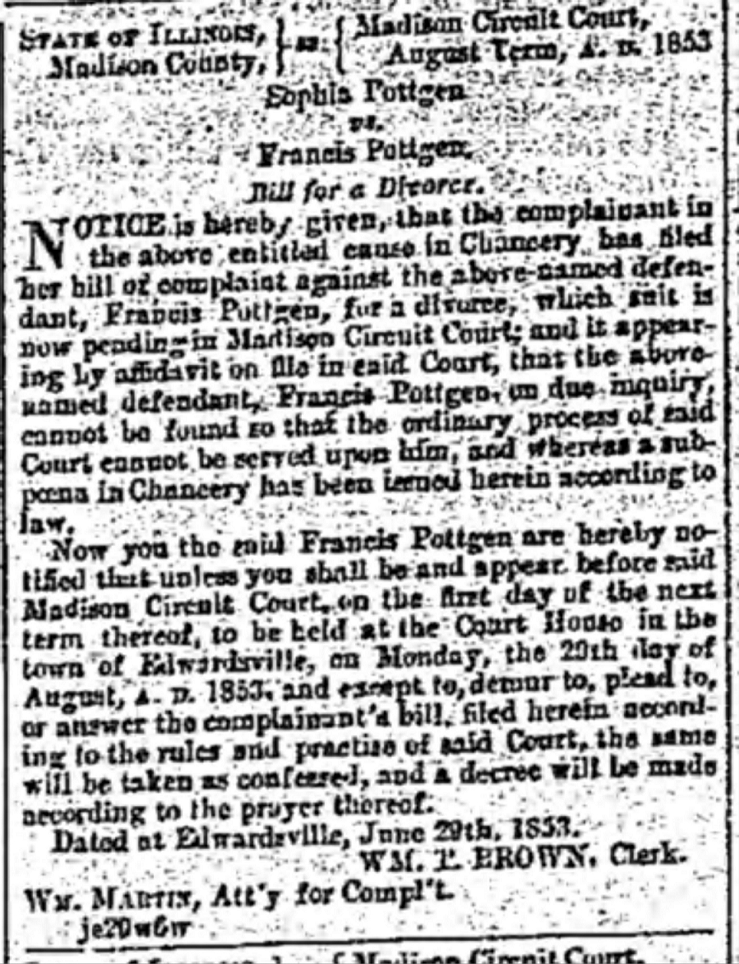 I wrote to the Madison County Courthouse, to see if they could find the divorce records.  I was so happy to receive this in the mail a week ago!! I have to add that the lady who called me was skeptical about me wanting the copies.  She said that they weren't legible.  There are a few words that I can't make out, but most of it is easy to understand.  I'm starting to wonder if there are a lot of people that just can't read cursive well. 🙂
Apparently, Francis didn't show up for the court proceedings and Sophia was granted the divorce, along with the custody of their seven children.  My guess is that the kids were about 17, 15, 10, 7, 5, and 2 years old.  That's quite the brood to be raising on her own.  The bill of divorce also stated that Francis was to pay her $100 alimony every January.  I'm not sure if she every received any of that money – or if there would be any available records showing it.  This was the only thing that was sent to me.  If I ever make it back to Madison County, Illinois, I'll have to do a more thorough search.
I wonder though – did Sophia know where Francis went?  Did he disappear and leave her with the kids without letting her know?  Did he leave her after a fight?  Did he head for adventure in California and she never heard from him again? Was he laying low in the area?  I'm not quire sure.  This is the last time I have found Francis Pottgen being mentioned in records (so far – I'm of course still looking!)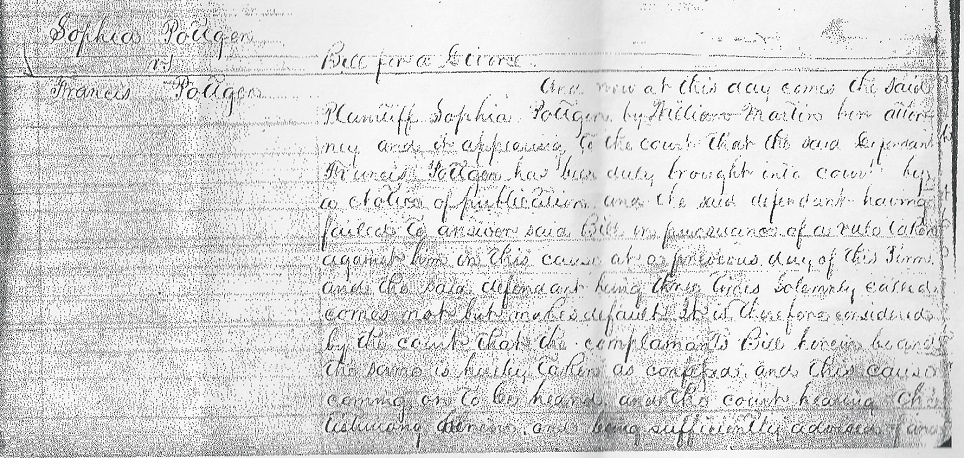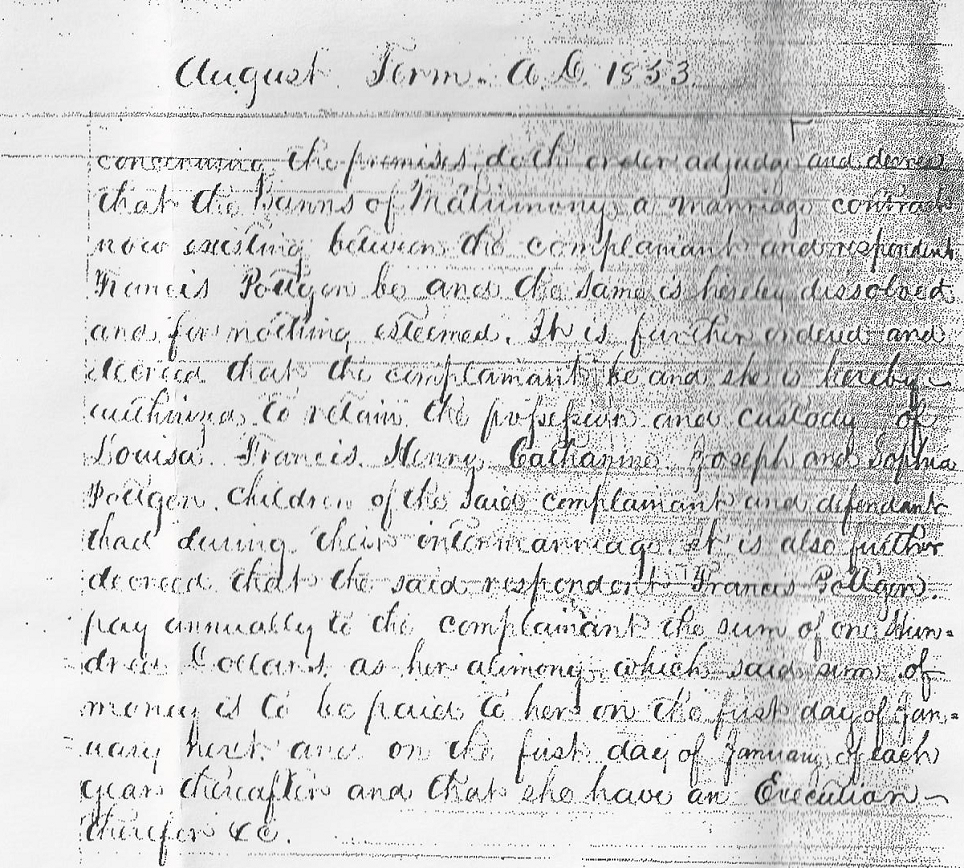 And here is the transcription of the above documents.  I still have some blanks – if you can read what it says, I'd love to know!
Sophia Pottgen vs. Francis Pottgen
Bill for a Divorce
And now at this day comes the said Plaintiff Sophia Pottgen by William Martin her attorney and it appearing to the court that the said Defendant Francis Pottgen has been duly brought into court –a notice of publication and the said defendant having failed to answer said Bill in pursuance of a —- taken against him in this cause at a previous day of this Term, and the said defendant being three times solemnly called comes not but makes default. It is therefore considered by the court that the complainants Bill herein be and the same is hereby taken as confessed and this — coming on to be heard. and this court hearing — testimony — and being sufficiently advised of and concerning the premises do the order adjudge and decree that the Banns of Matrimony a marriage contract now existing between the complainant and respondent Francis Pottgen be and the same is hereby dissolved and for nothing esteemed. It is further ordered and decreed that the complainant be and she is hereby authorized to retain the possession and custody of Louisa, Francis, Henry, Catharine, Joseph and Sophia Pottgen, children of the said complainant and defendant had during their intermarriage. It is also further decreed that the said respondent Francis Pottgen pay annually to the complainant the sum of one Hundred Dollars as her alimony which said sum of money is to be paid to her on the first day of January next and on the first day of January of each year hereafter and that she have an Execution therefor–