Brittania Elizabeth Campbell McLeister was doubly reltaed to my husband's line. Her father, Rev. Joseph Campbell, was a brother to my husband's  3rd great-grandmother, Rebecca White Campbell Baker, and her mother, Catheirna Baker, was a sister to my husband's 3rd great-grandfather, James Baker.
8 Nov 1905, Indiana Weekly Messenger, Indiana, PA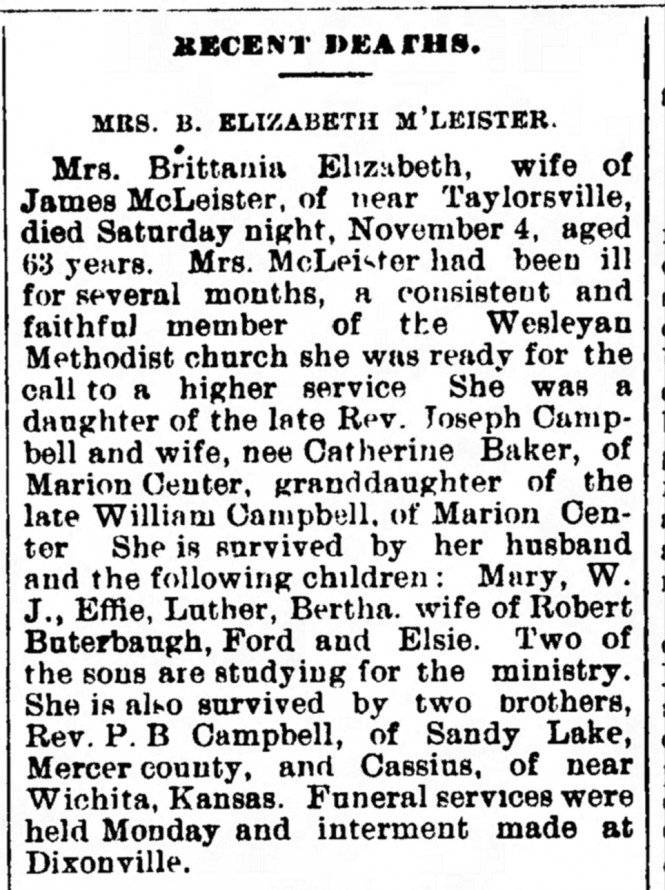 Mrs. B. ELIZABETH M'LEISTER.
Mrs. Brittania Elizabeth, wife of James McLeister, of near Taylorsville, died Saturday night, November 4, aged 63 years. Mrs. McLeister had been ill for several months, a consistent and faithful member of the Wesleyan Methodist church she was ready for the call to a higher service. She was a daughter of the late Rev. Joseph Campbell and wife, nee Catherine Baker, of Marion Center, granddaughter of the late William Campbell, of Marion Center. She is survived by her husband and the following children: Mary, W. J., Effie, Luther, Bertha, wife of Robert Buterbach, Ford, and Elsie. Two of the sons are studying for the ministry. She is also survived by two brothers, Rev. P.B. Campbell, of Sandy Lake, Mercer county, and Cassius, of near Witchita, Kansas. Funeral services were held Monday and interment made at Dixonville.