Caroline Baker Pringle was a sister to my husband's 2nd great-grandfather, James Baker.
She was born before her parents were married (she was about 6) , and in the 1850 census, she was listed as Caroline Park.  There was a Park family living in the area and I think that her biological father may have been one of these men.  I found a newspaper article stating that in the Gilgal Church Records of 1842, Rebecca Campbell (her mother) was guilty in the crime of fornication.  The father (of course) wasn't listed.  From what I can gather, James Baker raiser her as his own.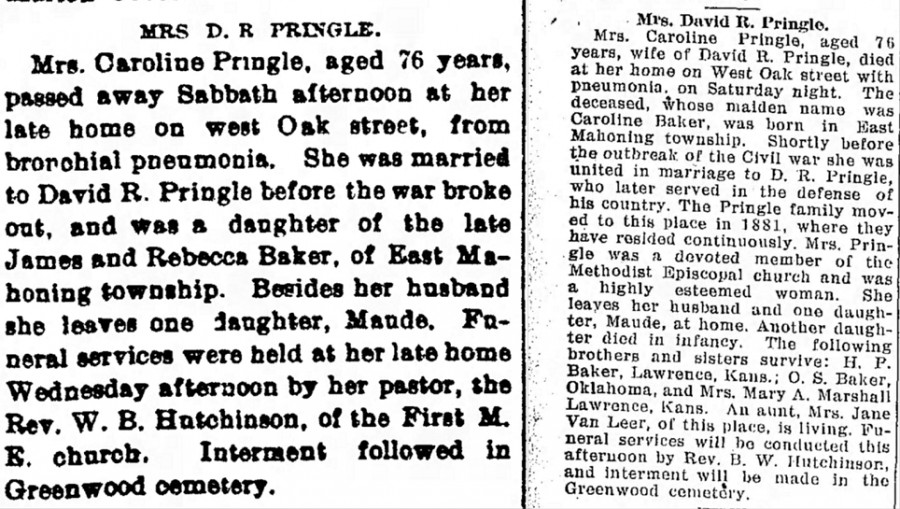 29 Mar 1917, Indiana Weekly Messenger, Indiana, PA
MRS. D.R. PRINGLE
Mrs. Caroline Pringle, aged 76 years, passed away Sabbath afternoon at her late home on west Oak street, from bronchial pneumonia. She was married to David R. Pringle before the war broke out, and was a daughter of the late James and Rebecca Baker, of East Mahoning township. Besides her husband she leaves one daughter, Maude. Funeral services were held at her late home Wednesday afternoon by her pastor, the Rev. W.B. Hutchinson, of the First M.E. church. Interment followed in Greenwood cemetery.
28 Mar 1917, Indiana Progress, Indiana PA
Mrs. David R. Pringle.
Mrs. Caroline Pringle, aged 76 years, wife of David R. Pringle, died at her home on West Oak street with pneumonia on Saturday night. The deceased, whose maiden name was Caroline Baker, was born in East Mahoning township. Shortly before the outbreak of the Civil war she was united in marriage to D.R. Pringle, who later served in the defense of his country. The Pringle family moved to this place in 1881, where they have resided continuously. Mrs. Pringle was a devoted member of the Methodist Epsicopal church and was a highly esteemed woman. She leaves her husband and one daughter, Maude, at home. Another daughter died in infancy. The following brothers and sisters survive: H.P. Baker, Lawrence, Kans.; O.S. Baker, Oklahoma, and Mrs. Mary A. Marshall Lawrence, Kans. An aunt, Mrs. Jane Van Leer, of this place, is living. Funeral services will be conducted this afternoon by Rev. B.W. Hutchinson and interment will be made in the Greenwood cemetery.