Author and genealogist, Katie Andrews Potter, sent me her new book, Going Over Home, to read and review.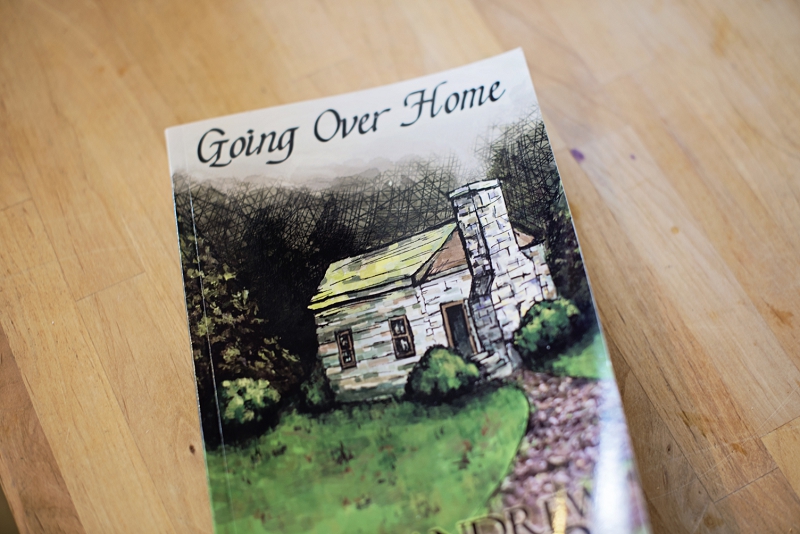 First of all, I am an avid reader and usually enjoy historical fiction, historical non-fiction, historical mysteries, and the occasional historical romance.  Yes, you've guessed it, I like history – hence my love for genealogy and my own family's place in history.
I recently had a nasty cold. I was miserable but it turned out to be a blessing in disguise.  It meant that I had a very good excuse to get cozy on the couch with a cup of lemon tea, a blanket, and this delightful book.  With 5 kids, I rarely get time to read in the middle of the day unless I'm reading a page or two during someone's piano lesson. 🙂
I think I would describe Going Over Home as a wholesome, time travel historical fantasy with the addition of genealogy and mystery to it.  A great mixture.
Here is the description from the back of the book:
"Maddox's life changed the day she read her real birthdate: May 17, 1820. Not 1990, like she'd been told all along. Sure, there had been clues: her mother's old-fashioned style, the fact that her parents refuse to talk about her grandparents, but she never could have guessed they were actually from the past. And if that wasn't enough, now she has to go back in time to live for good. She has descendants living now, and if she doesn't go back their lives will never be.
Once she figures out how to go back in time, she struggles with the impending change her life is about to take, and her relationship with shy, unassuming Henry Yancey: the man she is supposed to marry. But if the decision to go back isn't hard enough, she soon finds out there is someone who will stop at nothing to keep her from going back, and he's running out of time. Will Maddie fall for Henry, and will she be able to make it back in time before the portal closes?"
The majority of the book takes place in the present day, with frequent trips back to the 1830's as Maddie goes back and forth between the two times – meeting her great-grandmother and her future husband (in the past!) along the way. She has to make a very hard decision about whether she will stay in the past and leave her family behind or stay in the present and change her life and the lives of those around her.  She happens to be roommates with one of her descendants – who won't exist if she doesn't marry Henry Yancey.
I love the idea of being able to travel back into another time and way of life and I would love to be able to have a glimpse of how my ancestors lived. Of course, I'm not so sure that I'd like to stay in a time without running water and a warm house!
Going Over Home has an interesting plot and is an fun, light read.  I'm going to pass it along to my daughters (14 and 12) next, as I think it would be a good book to get young adults excited about researching their own family tree. I could really use a couple of genealogy apprentices here!
The book is available for download on your Kindle for $.99 at Amazon.com right now!!