Nellie and Lucy Jones were the granddaughters of Bridget Thornton Powers, a sister to my 3rd great-grandfather, James Patrick Thornton. They never married.
It looks like they were members (and one of them president) of a travel club in Alton, Illinois.  This article was published in the 16 May 1929 issue of the Alton Evening Telegraph.
After reading this, I am curious as to whether they actually went on trips together, or if they just read about places to go.
The magazine articles they read sound interesting.  I can't help but wonder what "The Aristocracy of Vegetables" is about. 🙂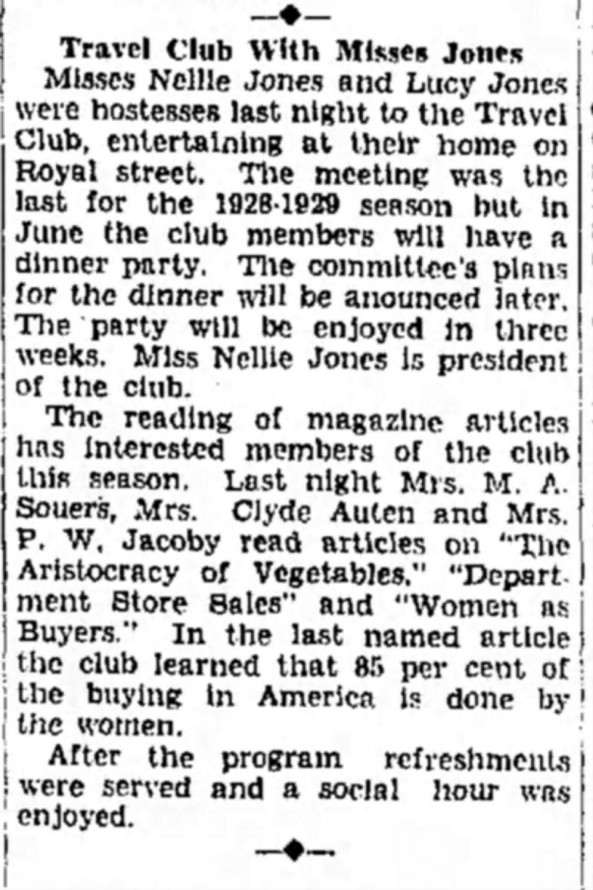 Travel Club With Misses Jones
Misses Nellie Jones and Lucy Jones were hostesses last night to the Travel Club, entertaining at her home on Royal street. The meeting was the last for the 1928-1929 seasons but in June the club members will have a dinner party. the committee's plans for the dinner will be announced later. The party will be enjoyed in three weeks. Miss Nellie Jones is president of the club.
The reading of magazine articles has interested members of the club this season. Last night Mrs. M.A. Souers, Mrs. Clydde Auten and Mrs. P.W. Jacoby read articles on "The Aristocracy of Vegetables" "Department Store Sales" and "Women as Buyers". In the last named article the club learned that 85 per cent of the buying in America is done by the women.
After the program refreshments were served and a social hour was enjoyed.