Here is a short biography of my ancestor, Alexander Cowen Robertson which is in the History of Washington County, Iowa.  Oh, how I wish they mentioned WHERE in Kentucky he was from.  I'm still trying to figure that one out. I am, however, very grateful that it lists when his family moved from place to place.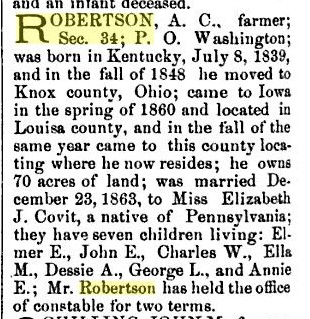 "Robertson, A.C., farmer; Sec. 34; P.O. Washington; was born in Kentucky, July 8, 1839, and in the fall of 1848 he moved to Knox county, Ohio; came to Iowa in the spring of 1860 and located in Louisa county, and in the fall of the same year game to this county locating where he now resides; he owns 70 acres of land; was married December 23, 1863, to Miss Elizabeth J. Covit, a native of Pennsylvania; they have seven children living; Elmer E., John E., Charles W., Ella M., Dessie A., George L., and Annie E.;  Mr. Robertson has held the office of constable for two terms."
I also found another article about an Alexander Robertson who was the steward of the town's poor house.  I got really excited about this article, because it was really interesting.  The poor house apparently burned down and 5 people died.  Alexander had tried to go up and save the people, but had almost been knocked out by smoke.  His son John had to get him out.  I was even more excited, because my Alex had a son John.   Then I was disappointed when I looked through the 1880 census and found my Alexander on a farm and this other Alexander working as the poor house steward. Darn!  I almost had a really cool family story….
I need to keep this in mind now when I'm doing research in this county.  There was another Alexander living here at the same time.  I need to make sure not to confuse them!!!