This is the affidavit of Joseph Campbell, brother of Rebecca White Campbell Baker.  She applied for a widow's pension after the death of her husband, James Baker.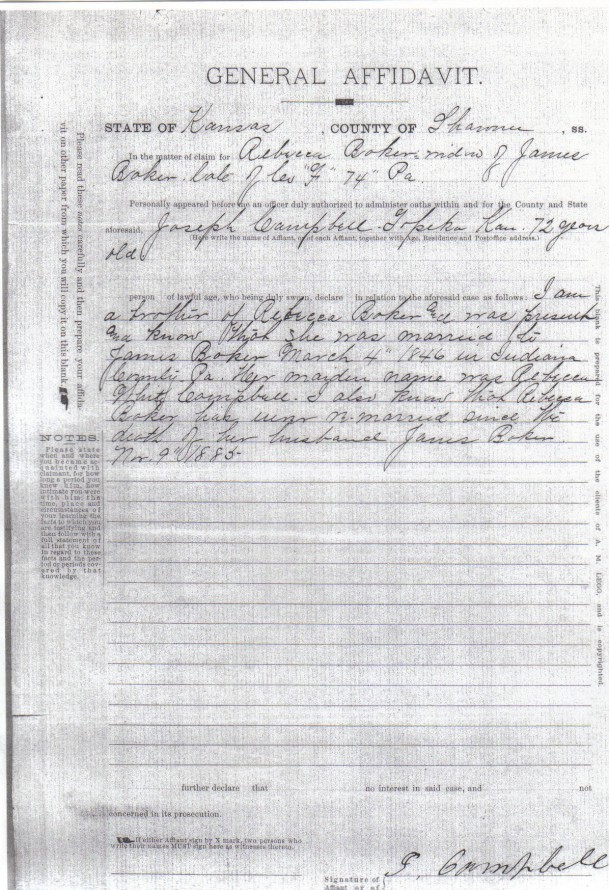 General Affadavit
State of Kansas, County of Shawnee
In the matter of claim for Rebecca Baker, widow of James Baker late of Co. "F" 74″ PA.
Personally appeared before was an officer duly authorized to administer oaths within and for the county and State aforesaid, Joseph Campbell, Topeka Kan. 72 yrs old.
person of lawful age who being duly sworn declare in relation to the aforesaid case as follows:
I am a brother of Rebecca Baker and was present and know that she was married to James Baker March 4th 1846 in Indiana County, Pa.  Her maiden name was Rebecca White Campbell.  I also know that Rebecca Baker has never re-married since the death of her husband James Baker Nov. 9″ 1885
J. Campbell