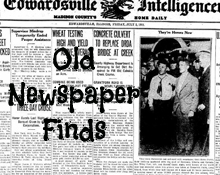 I just love looking through old newspapers.  It's so entertaining!
I was doing some searches on www.GenealogyBank.com, looking for my husband's Cossaboon ancestors in New Jersey, and I found this strange news article (no relation that I know of). Very interesting…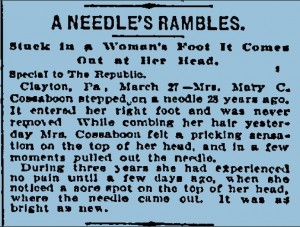 A NEEDLE'S RAMBLES.
Stuck in a Woman's Foot It Comes Out at Her Head.
Special to The Republic.
Clayton, Pa, March 27 – Mrs. Mary C. Cossaboon stepped on a needle 28 years ago.  It entered her right foot and was never removed.  While combing her hair yesterday Mrs. Cossaboon felt a pricking sensation on the top of her head, and in a few moments pulled out the needle.
During three years she had experienced no pain until a few days ago, when she noticed a sore spot on the top of her head, where the needle came out.  It was as bright as new.