Lucie Weeks worked with the deaf her whole life.  Here is an article I found in the 15 May 1966 issue of the Colorado Springs Gazette-Telegraph.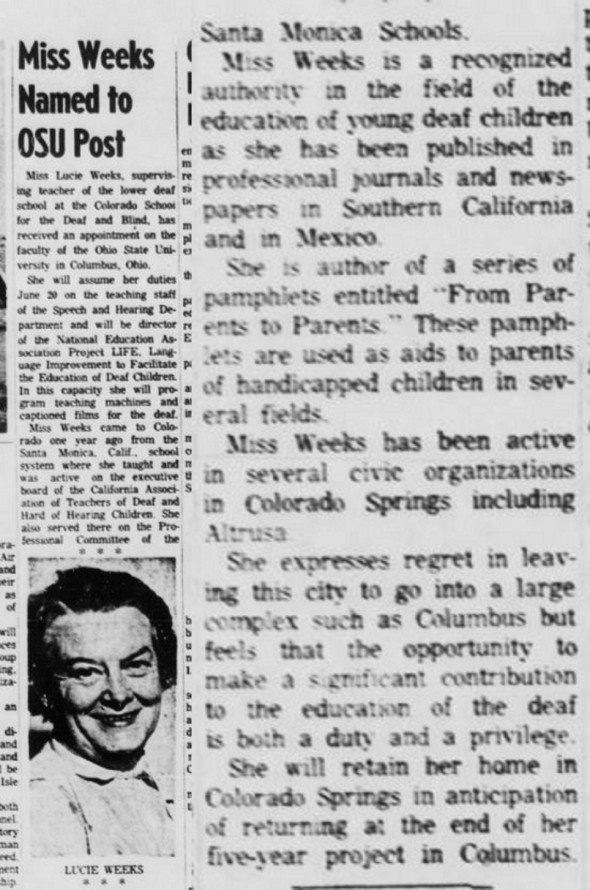 Miss Weeks Named to OSU Post
Miss Lucie Weeks, supervising teacher of the lower deaf school at the Colorado School for the Deaf and Blind has received an appointment on the faculty of the Ohio State University in Columbus, Ohio.
She will assume her duties June 20 on the teaching staff of the Speech and Hearing Department and will be director of hte National Education Association Project LIFE. Language Improvement to Facilitate the Education of Deaf Children. In this capacity she will program teaching machines and captioned films for the deaf.
Miss Weeks came to Colorado one year ago from the Santa Monica, Calif. school system where she taught and was active on the executive board of the California Association of Teachers of Deaf and Hard of Hearing Children. She also served there on the Professional Committee of the Santa Monica Schools.
Miss Weeks is a recognized authority in the field of the education of young deaf children as she has been published in professional journals and newspapers in California and in Mexico.
She is author of a series of pamphlets entitled "From Parents to Parents". These pamphlets are used as aids to aprents of handicapped children in several fields.
Miss Weeks has been active in several civil organizations in Colorado Springs including Altrusia.
She expresses regret in leaving this city to go into a large complex such as Columbus, but feels that the opportunity to make a significant contribution to the education of the deaf is both a duty and a privilege.
She will retain her home in Colorado Springs in anticipation of returning at the end of her five-year project in Columbus.