Week 15. Sports. Did you have a favorite sports team as a child? If so, which one and why. Did your parents follow the same teams? Do you still support the same teams?
I wasn't really big into watching sports when I was a kid.  My dad liked to watch football (and still does) so it was often on TV.  We rooted for Seattle SeaHawks since we're from Washington. I went to a few Mariner's games as a kid, but other than that I don't think that I ever attended any professional sports games growing up.
I went on to marry a man who doesn't watch sports. AT ALL.  We turn the Super Bowl on every year, but we seriously have to check to see who is playing and then choose someone to root for.  Sometimes we root for both teams. I guess we're strange.
Even though I have never enjoyed watching sports very much, I was very athletic growing up.  I played volleyball, basketball, softball, and golf in high school.   I even went on to play 2 years of volleyball in community college and really enjoyed it.
My Grandpa Thornton was pretty good at playing basketball from what I've been told. I believe this picture was taken in high school.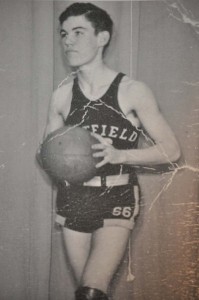 My dad was athletic too – he played football in high school and college and went by the nickname "Thunder".  My mom had that painted on her wall (they were high school sweethearts).
My sister (whom everyone calls "Thor") is way more athletic than I could ever hope to be though.  She was an All American in the discus in college and even made it to the Olympic trials.  She competes in Highland Games and lifts lots of weights. She works as a strength training coach at a university now.  She's really strong.  And I am a complete wimp compared to her.  Especially now that I've had five children and my body is no longer in harmonious conjunction with my mind.  I don't think that I could hit a volleyball if I tried. 🙂
Maybe I'll get off my rear end and find an old ladies volleyball league when we move to Texas. 🙂  Genealogy is definitely not a very active hobby….