Mrs. Margaret Thornton Noll was the daughter of Edward Thornton, a brother to my 3rd great-grandfather, James Patrick Thornton.
17 Aug 1937, Alton Evening Telegraph, Alton, Illinois.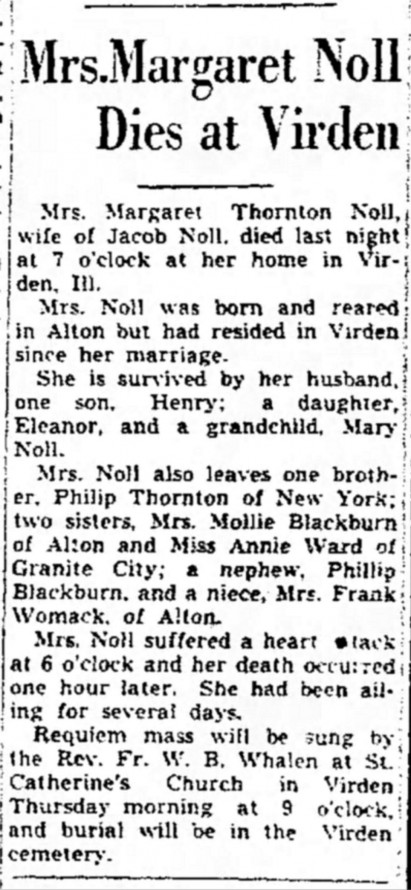 Mrs. Margaret Noll Dies at Virden
Mrs. Margaret Thornton Noll, wife of Jacob Noll, died last night at 7 o'clock at her home in Virden, Ill.
Mrs. Noll was born and reared in Alton, but had resided in Virden since her marriage.
She is survived by her husband, one son, Henry; a daughter, Eleanor, and a grandchild, Mary Noll.
Mrs. Noll also leaves one brother, Philip Thornton of New York; two sisters, Mrs. Mollie Blackburn of Alton and Miss Annie Ward of Granite City; a nephew, Philip Blackburn, and a niece, Mrs. Frank Womack, of Alton.
Mrs. Noll suffered a heart attack at 6 o'clock and her death occurred one hour later. She had been ailing for several days.
Requiem mass will be sung by the Rev. Fr. W. B. Whalen at St. Catherine's Church in Virden Thursday morning at 9 o'clock, and burial will be in the Virden cemetery.