Rhoda J. Edwards Provost was a sister to my 3rd great-grandfather, John Edwards.  She lived to be 100 years old!!
Even though I didn't find my ancestor mentioned in any of the newspaper articles I found on her family in Michigan, I was able to paint a clearer picture of their lives as children, moving from Ontario to Michigan, right before the Civil War (John lied about his age and enlisted).
Her obituary was found in The Times Herald from Port Huron, Michigan, dated 7 Nov 1946. Transcription follows.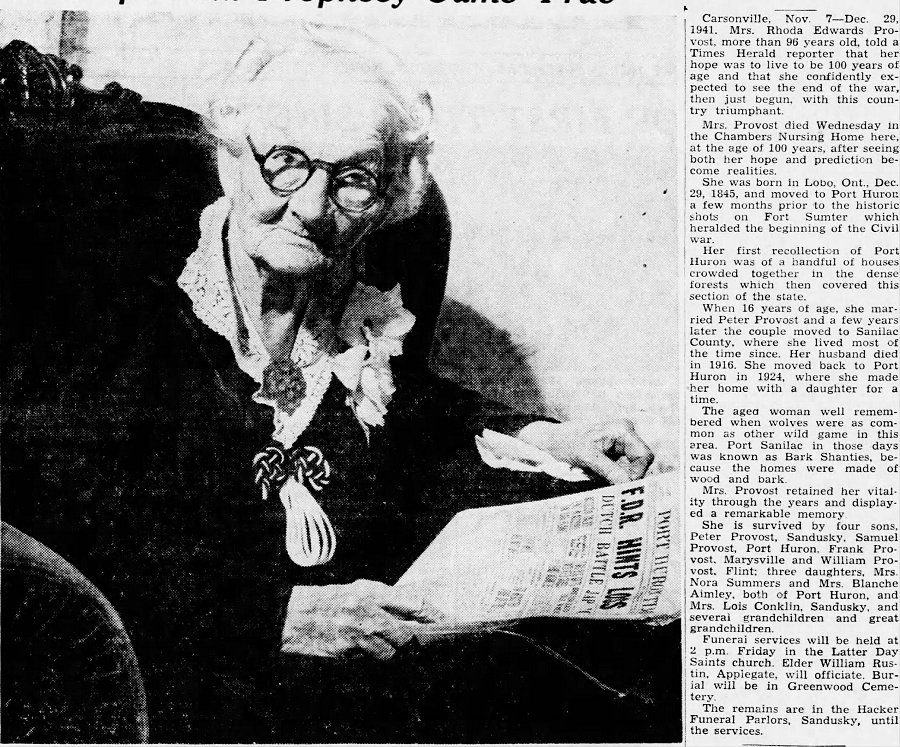 Carsonville, Nov 7-Dec 29, 1941. Mrs. Rhoda Edwards Provost, more than 96 years old, told a Times Herald reporter that her hope was to live to be 100 years of age and that she confidently expected to see the end of the war, then just begun, with this country triumphant.
Mrs. Provost died Wednesday in the Chambers Nursing Home here, at the age of 100 years, after seeing both her hope and prediction become realities.
She was born in Lobo, Ont., Dec 29, 1845, and moved to Port Huron a few months prior to the historic shots on Fort Sumter which heralded the beginning of the Civil War.
Her first recollection of Port Huron was of a handful of houses crowded together in the dense forests which then covered this section of the state.
When 16 years of age, she married Peter Provost and a few years later the couple moved to Sanilac county, where she lived most of the time since. Her husband died in 1916. She moved back to Port Huron in 1924, where she made her home with a daughter for a time.
The aged woman well remembered when wolves were as common as other wild game in this area. Port Sanilac in those days was known as Bark Shanties, because the homes were made of wood and bark.
Mrs. Provost retained her vitality through the years and displayed a remarkable memory.
She is survived by four sons, Peter Provost, Sandusky, Samuel Provost, Port Huron, Frank Provost, Marysville, and William Provost, Flint; three daughters, Mrs. Nora Summers and Mrs. Blanche  Aimley, both of Port Huron, and Mrs. Lois Conklin, Sandusky, and several grandchildren and great-grandchildren.
Funeral services will be held at 2 p.m. Friday in the Latter Day Saints church. Elder William Rustin, Applegate, will officiate. Burial will be in Greenwood cemetery.
The remains are in the Hacker Funeral Parlors, Sandusky, until the services.