Lyman Parks Weeks was my husband's great-great grandfather's younger brother.
He was walking home at 3 in the morning after a night of drinking, and he fell into a hole and got so wedged in that he ended up dying.   What a horrible accident.  The transcription of the article follows the copy of it.
On a side note, almost exactly a year after he died, his widow, Priscilla Galusha Weeks, married his nephew, Lyman Charles Weeks.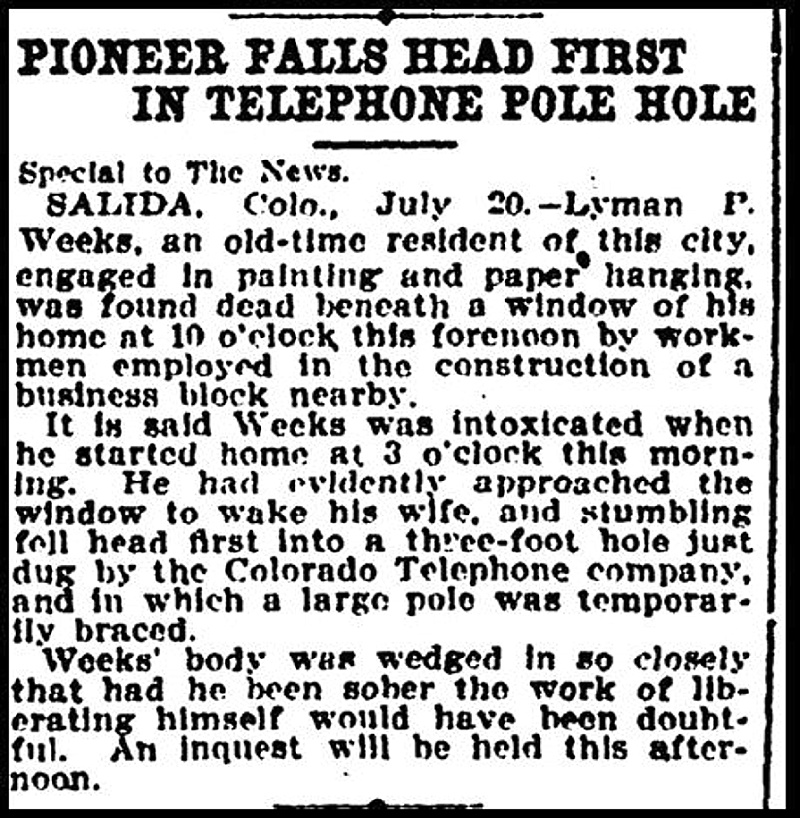 PIONEER FALLS HEAD FIRST IN TELEPHONE POLE HOLE
Special to the News.
SALIDA, Colo., July 20 – Lyman P. Weeks, an old-time resident of this city, engaged in painting and paper hanging, was found dead beneath a window of his home at 10 o'clock this forenoon by workmen employed in the construction of a business block nearby.
It is said Weeks was intoxicated when he started home at 3 o'clock this morning. He had evidently approached the window to wake his wife, and stumbling fell head-first into a three-foot hole just dug by the Colorado Telephone company, and in which a large pole was temporarily braced.
Weeks' body was wedged in so closely that had he been sober the work of liberating himself would have been doubtful, An inquest will be held this afternoon.