Do you ever use divorce records in your research? 
Everyone wants to hear that their ancestors were happily married and lived to celebrate their golden anniversary with their family and friends around them  That's definitely not always the case though.
I've found a few divorces in my family tree – including a few in the 1800's, which for some reason surprised me.  Why I have it in my head that people were more happily married 150 years ago is beyond me.
One of my great-great grandmothers was committing adultery in two counties and lost custody of her children.  Another of my ancestors left his wife and hadn't been seen for years, so she was granted a divorce. I realized that if I didn't have these records to explain the situation, I would have been wondering what had gone wrong. (Of course, we'll never know all of the details,  but it's nice to get a bit of information to help better understand the situtation).
The records were extremely helpful in giving information on property they owned, marriage dates, names and ages of children, and often the little details to daily life which are so exciting to us genealogists.
So, why have I put off ordering the divorce records for my great-grandparents, Lars Julius and Eugenia Bergman?  I guess it's because they are a closer generation than the others I have used in the past.  Even though I never met them (they died 15-20 years before I was born), there are people who knew them that are still living and that somehow makes it different.  It makes me feel like I'm prying a bit.
Despite my initial misgivings, I went ahead and finally ordered the records.  It was incredibly easy (it was delivered as a 30-page PDF) and it gave me a surprising amount of information.

The first thing I noticed when looking through the records is that Lars drank too much.  The reason I found this so interesting is that his own father had died of "excessive consumption of strong drinks" a month before Lars was born.  It makes me sad that he seems to have followed along the same path.
Also, I appreciated the description of their home life.  They had been married for almost 30 years when they divorced, so this wasn't a sudden decision.  It sounds like the home situation wasn't a very happy one. My grandma was 14 when her parents divorced, so that means that this was her childhood, and it didn't sound like a happy one. 🙁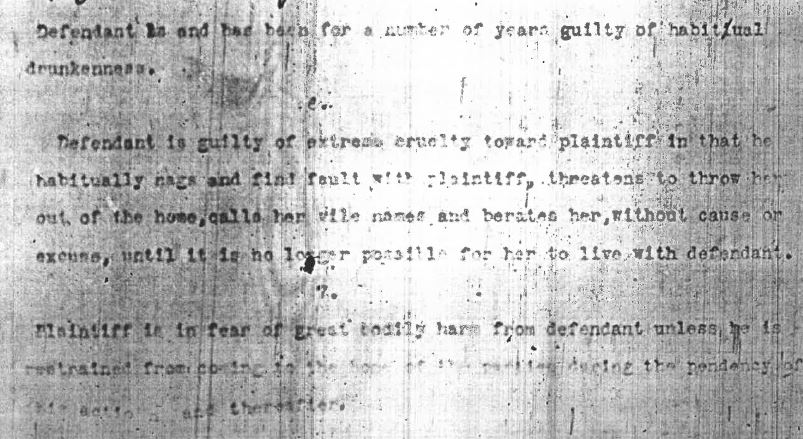 Some of the pages gave me information on my Grandma Eleanore.  She was attending the University of Washington, but was still unmarried and not working.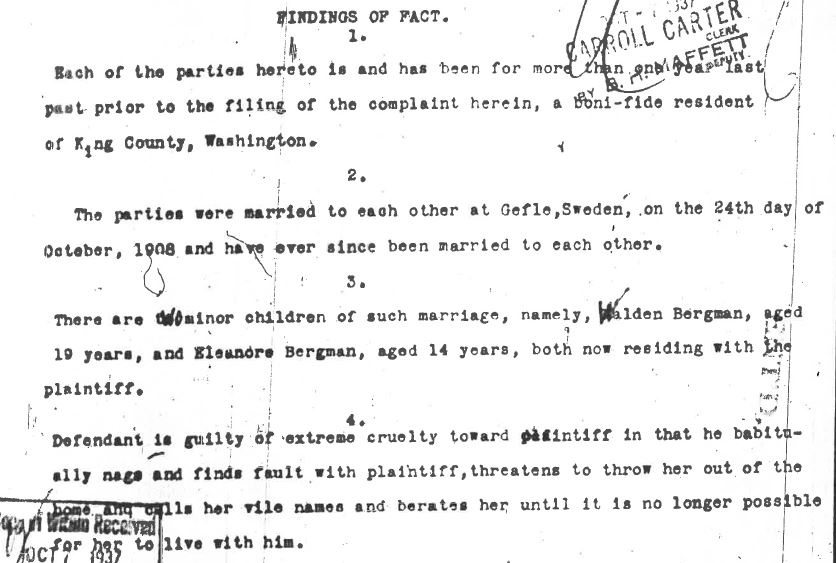 Lars was pretty far behind on child support payments. I wonder if she had any contact with her dad.  Did he ever visit?


It looks like Lars was brought in for not paying child support in 1942.

His wages were going to be garnished.  This was helpful information for me, because I found out where he was working – The Standard Table Company.

All in all, I'm glad that I ordered the records. They've given me a bit more of a picture of their lives, even if it wasn't all good.