This document was in Bedford County, VA Will Book 2, page 125-6.
Thomas Moorman was my 6th great-grandfather.  He died in 1766, but this document is dated 1792 (in court in 1794).  At first, I couldn't understand why there was probate paperwork almost 30 years after he died, but then I realized that his wife died in 1792 and that this division must have been done upon her death.  According to his will, after a couple of bequests were given out, the rest of his estate was to be divided equally amongst his children.
I'm not quite sure what to make of this document though. From what I can tell, it is a division of the slaves from his estate, although I don't understand what it all means.  Please correct me if I"m wrong!!
There are 13 slaves listed in total: Rore, Peter, Pall, Venus, Jenny, Moll (Moll Sambo), Davy, Isabella, Sycy, Harry, Little Batt, Judy, and Moll (called Mooll Peter).
I transcribed the words below the images, but I left out the numbers.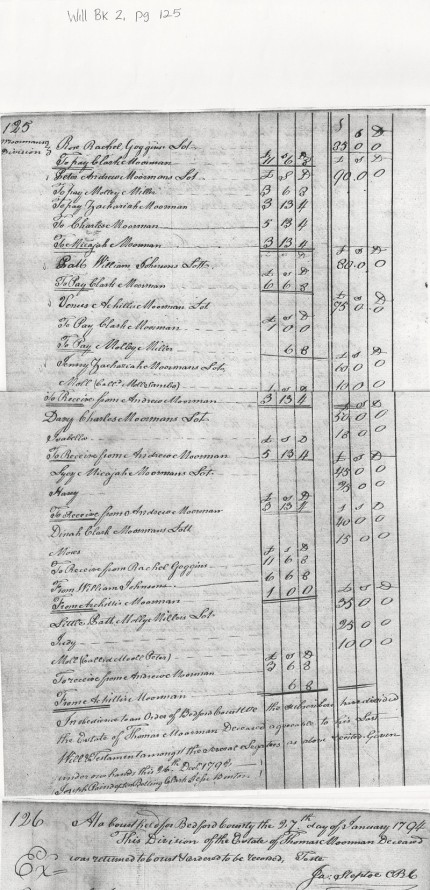 Rore Rachel Goggins Lot
To pay Clark Moorman
Peter Andrew Moormans Lot
To pay Molley Miller
To pay Zachariah Moorman
To Charles Moorman
To Micajah Moorman
Pall William Johnsons Lott
To Pay Clark Moorman
Venus Achilles Moorman Lot
To Pay Clark Moorman
To Pay Molly Miller
Jenny Zachariah Moormans Lot
Moll (Calld Moll Sambo)
To Receive from Andrew Moorman
Davy Charles Moormans Lot
Isabella ———–
To Receive from Andrew Moorman
Lycy Micajah Moormans Lot
Harry
To Receive from Andrew Moorman
Dinah Clark Moormans Lott
Moses
To Receive from Rachel Goggins
From William Johnsons
From Achilles Moorman
Little Batt Molly Millers Lot
Judy
Moll (Called Mooll Peter)
To receive from Achilles Moorman
From Achilles Moorman
In obedience to an Order of Bedford Court We the subscribers have divided the Estate of Thomas Moorman Deceased agreeable to his Last Will + Testament amongst the several Legatees as above recited. Given under our hands this 26th Decr 1792
Joseph Poindexter Bolling Clark Jesse Binton
At a Court held for Bedford County the 27th day of January 1794 This Division of the Estate of Thomas Moorman Deceased was returned to Court + ordered to be recorded, Teste
Ja. Steptoe CBC