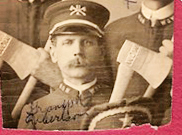 This is a picture of my great-great grandfather, John Edgar Robertson (1866-1954).
Does this look like he might have been a firefighter?
Looking at his census records, I have him listed as a farmer, a teamster, a shipping clerk, an American Express clerk, and working at Railway Express.
I don't think he would have carried an axe in any of those jobs though.  What do you think?