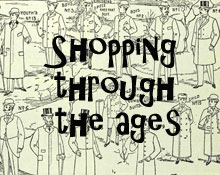 It's that time again.  Time to shop through the ages.  This time, we'll be taking a look at the 1909 Sears catalog.
Let's start with fashion. The women were still wearing uncomfortable corsets and unusually large hats. 🙂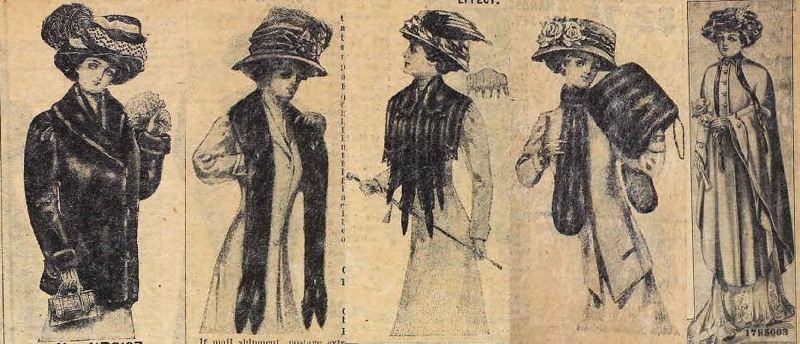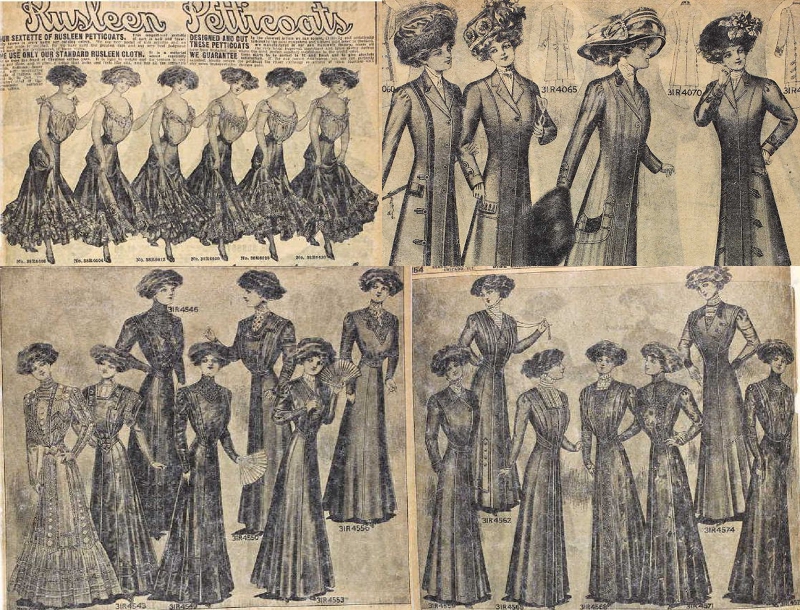 The proportion they have drawn these ladies seems very strange to me.  I'm assuming that they are making their waists look smaller, but their torsos look very weird.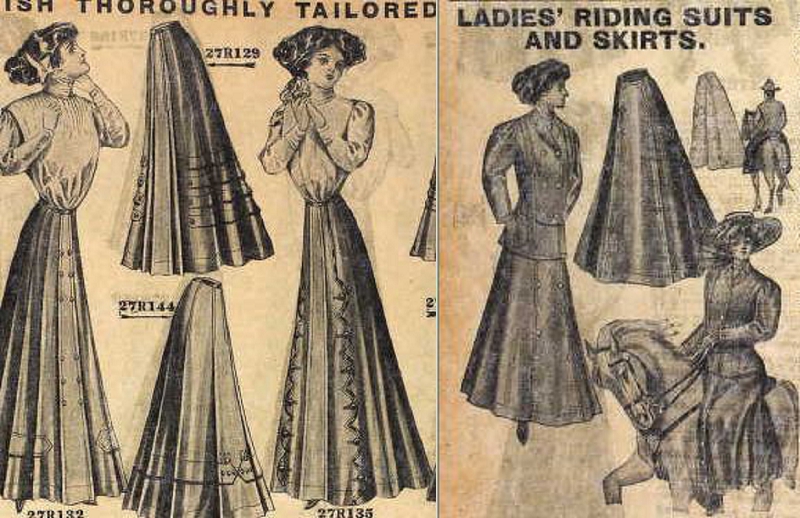 I would be seriously off balance with one of these hats on my head.

I think that these shoes are probably supposed to be a brown/tan color, but red seems to be the color used in almost all of the color pages in the catalog.


And the kids. Here are some interesting little hats. 🙂

And boys in short pants.

These little girls are adorable, but I'm not sure how easy it would be to play with a big hat on your head.

And on to the men's clothing.  I just love the "Hercules Invincible Work Shirts".


And here are some more fashionable clothes.

There were a variety of hats available.  I just love their names.


Moving on to the rest of the catalog…..
I just love how these women are reading/relaxing while they are doing the laundry.  The magic of a washing machine. I wonder how much muscle it actually took to use one of these.

And this vacuum cleaner looks handy.  It also looks like it takes two people.  Apparently the children get to do the hard labor while mom gets to do the vacuuming. 🙂

The glory of a bathroom. It must have been so nice to add a bathroom to your house.

I think that these cylinder records look so interesting.  I've never seen one in person before.

Little dolls and of course a doll "go-cart" or stroller.  What would little girls do without them?

I love the section of the house plans.  I wonder if any of my ancestors lived in houses that they saw on the pages of this catalog.

I think it's interesting that strollers were called "go-carts".  Our language is forever changing.

You could buy just about anything in this catalog – including handcuffs or a "nipper".

I always wondered how women of this time period got their hair to be so poofy.  It has all become so clear to me. Padding. 🙂

You could now buy an automobile or an "auto cycle".

You'd also need some automobile goggles to wear.


They had a nice selection of windows and doors.

I can't imagine swimming in a dress.  No wonder why this poor lady needs "water wings".

There were a number of different toys and games available to keep the little ones happy and occupied.
Teddy Bears "have come to stay" and were "more popular than ever".
You could also scare your friends with a pretend spider or bug.
Or maybe play a game of table croquet or "Playing Possum with Taft".

You could buy "Tom Sawyer's Play Tent" for your little darling.  Or maybe a circle swing.


These two products scare me.  I would have to say that they aren't the best designs for a pin cushion or a pipe.  What do you think?

There were a number of different veils available.  One for mourning.  Another for riding in an automobile.  And a couple for infants.  Those poor kids look like they're suffocating!!

Here are some various products.  A Japanese Grass suit might come in handy if you were hunting.  Maybe you'd like an electric hair brush.  Or a tropic foot warmer. Or a pants match scratcher. 🙂

Here are some available chairs.

And a cream separator.  Life as a housewife in 1909 must have been hard!!  I'm sure that they were excited about all of the new and improved products available.

I would love to find one of these desk/shelves sets at an antique store sometime.  They are gorgeous.

I wonder how many people actually had telephones in 1909. 

What kid wouldn't want a toy grocery store or a mechanical engine?  

Some more interesting items.  "Neck Lace".  A pearl studded dog collar.  Conversation tubes for those who are hard of hearing. Hot water dolls (that's actually a pretty good idea!).  A cigarette maker.  A graveyard shell.

This must have been so exciting to watch!!!

And a few more various items.  An Eskimo doll.  A Pyrographic Outfit (which I believe is woodburning). Hygenic Skin Food. Lavender Smelling Salts – for fainting spells. 🙂  And The Electric Questioner.

That's it for this edition of Shopping Through the Ages.  Join me next time, when we shop through 1910.