Walden Bergman was my great-uncle. He died in 1978, less than a year after this newspaper article was written.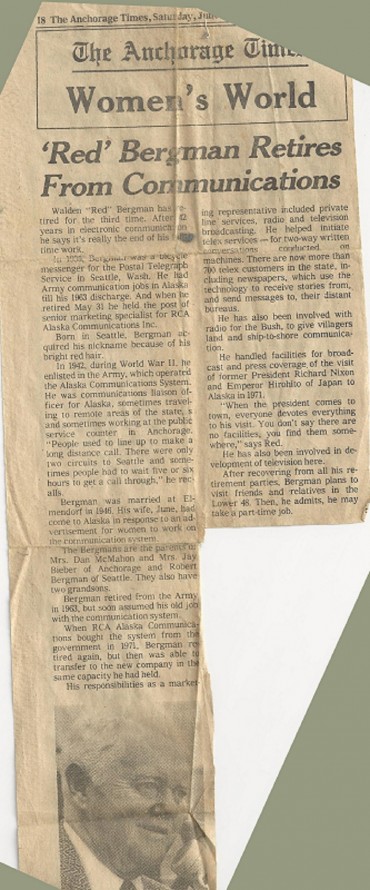 The Anchorage Times, Saturday, June 25, 1977, pg. 18
'Red' Bergman Retires From Communications
Walden 'Red' Bergman has retired for the third time.  After 42 years in electronic communication he says it's really the end of his full-time work.
In 1935, Bergman was a bicycle messenger for the Postal Telegraph Service in Seattle, Wash.  He had Army communication jobs in Alaska till his 1963 discharge.  And when he retired May 31 he held the post of senior marketing specialist for RCA Alaska Communications Inc.
Born in Seattle, Bergman acquired his nickname because of his bright red hair.
In 1942, during World War II, he enlisted in the Army, which operated the Alaska Communications System.  He was communications liaison officer for Alaska, sometimes traveling to remote areas of the state, and sometimes working at the public service counter in Anchorage.  "People used to line up to make a long distance call.  There were only two circuits to Seattle and sometimes people had to wait five or six hours to get a call through," he recalls.
Bergman was married at Elmendorf in 1946.  His wife, June, had come to Alaska in response to an advertisement for women to work on the communication system.
The Bergmans are the parents of Mrs. Dan McMahon and Mrs. Jay Bieber of Anchorage and Robert Bergman of Seattle.  They also have two grandsons.
Bergman retired from the Army in 1963, but soon assumed his old job with the communications system.
When RCA Alaska Communications bought the system from the government in 1971, Bergman retired again, but then was able to transfer to the new company in the same capacity he had held.
His responsibilities as a marketing representative included private line services, radio and television broadcasting.  He helped initiate telex services – for two-way written conversations conducted on machines.  There are now more than 700 telex customers in the state, including newspapers, which use the technology to receive stories from, and send messages to, their distant bureaus.
He has also been involved with radio for the Bush, to give villagers land and ship-to-store communication.
He handled facilities for broadcast and press coverage of the visit of former President Richard Nixon and Emperor Hirohito of Japan to Alaska in 1971.
"When the president comes to town, everyone devotes everything to his visit.  You don't say there are no facilities, you find them somewhere," says Red.
He has also been involved in development of television here.
After recovering from all his retirement parties, Bergman plans to visit friends and relatives in the Lower 48.  Then, he admits, he may take a part-time job.