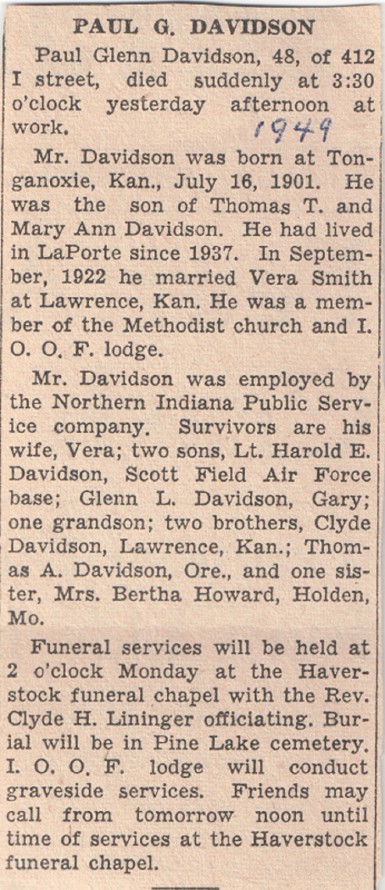 PAUL G. DAVIDSON
Paul Glenn Davidson, 48, of 412 I street, died suddenly at 3:30 o'clock yesterday afternoon at work.
Mr. Davidson was born at Tonganoxie, Kan., July 16, 1901.  He was the son of Thomas T. and Mary Ann Davidson.  He had lived in LaPorte since 1937.  In September, 1922 he married Vera Smith at Lawrence, Kan.  He was a member of the Methodist church and I.O.O.F. lodge.
Mr. Davidson was employed by the Northern Indiana Public Service company. Survivors are his wife, Vera; two sons, Lt. Harold E. Davidson, Scott Field Air Force base;  Glenn L. Davdison, Gary; one grandson; two brothers, Clyde Davidson, Lawrence Kan.;  Thomas A. Davidson, Ore., and one sister, Mrs. Bertha Howard, Holden, Mo.
Funeral services will be held at 2 o'clock Monday at the Haverstock funeral chapel with the Rev. Clyde H. Lininger officiating. Burial will be in Pine Lake cemetery. I.O.O.F. lodge will conduct graveside services. Friends may call from tomorrow noon until time of services at the Haverstock funeral chapel.