My Papa served as a Marine aboard the USS Cabot during WWII. This is a commendation he received for his service while they were under attack.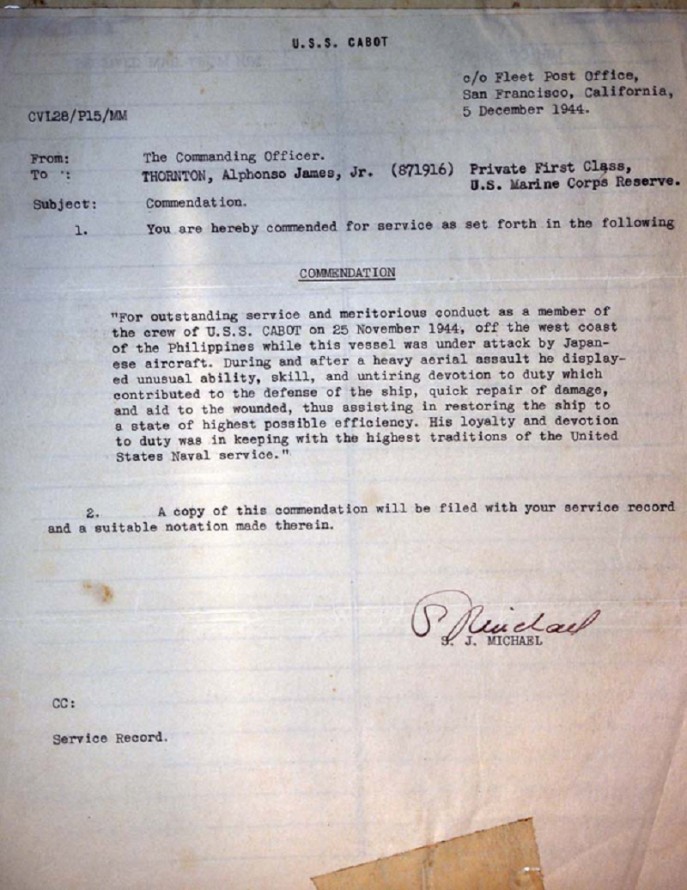 U.S.S. Cabot
c/o Fleet Post Office
San Francisco, California,
5 December 1944.
CV128/P15/MM
From: The Commanding Officer
To: THORNTON, Alphonso James, Jr. (871916) Private First Class, U.S. Marine Corps Reserve.
Subject: Commendation
1. You are hereby commended for service as set forth in the following
COMMENDATION
, while
"For outstanding service and meritorious conduct as a member of the crew of the U.S.S. CABOT on 25 November 1944, off the west coast of the Philippines while this vessel was under attack by Japanese aircraft. During and after a heavy aerial assault he displayed unusual ability, skill, and untiring devotion to duty which contributed to the defense of the ship, quick repair of damage, and aid to the wounded, thus assisting in restoring the ship to a state of highest possible efficiency. His loyalty and devotion to duty was in keeping with the highest traditions of the United States Naval Service."
2. A copy of this commendation will be filed with your service record and a suitable notation made therein.
{signed} S.J. Michael
CC: Service Record