Over my years of researching, I have been very bad about conducting interviews of my relatives.  I've often sat and listened to an interesting story from their childhood, only to realize later that I didn't take very good notes and there is no way I could retell the story with any sense of details.  I should have recorded them, so I could listen to the stories later – in their own words and voices.
Yes, I know that I could be using my iPhone to take videos or audio clips of interviews.  I've used it to video record an interview before, but for some reason it felt awkward to me – holding up my phone while asking questions.  I think I like the idea of an audio recording better.  Something I can simply set down on a table and forget about as we have a conversation about the past.
And yes, I could simply use my phone to record audio of the interviews, but I have to admit that I can be really bad about uploading things from my phone.  They often seem to disappear into some folder on my computer that I can never find again.
When I was approached by the lovely folks at Saving Memories Forever about doing a review of their product, I jumped at the chance.  I love my iPhone and am always looking for useful apps to fill it with.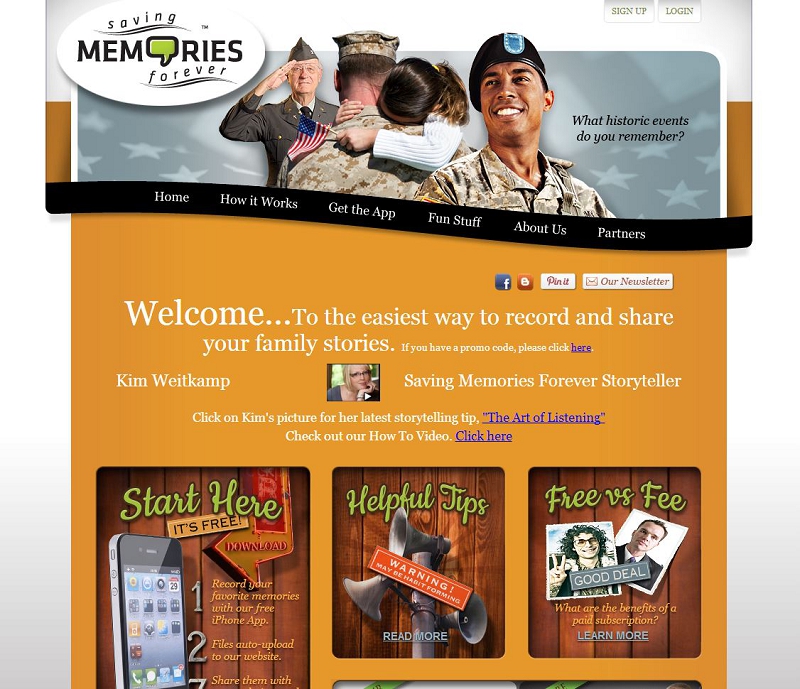 I was planning a trip back to my parents' home in Washington state and thought this would be the perfect opportunity for me to interview my dad.  I've been meaning to do it for years, but have always put it off.  He's an easy person to interview, because he loves to talk. 🙂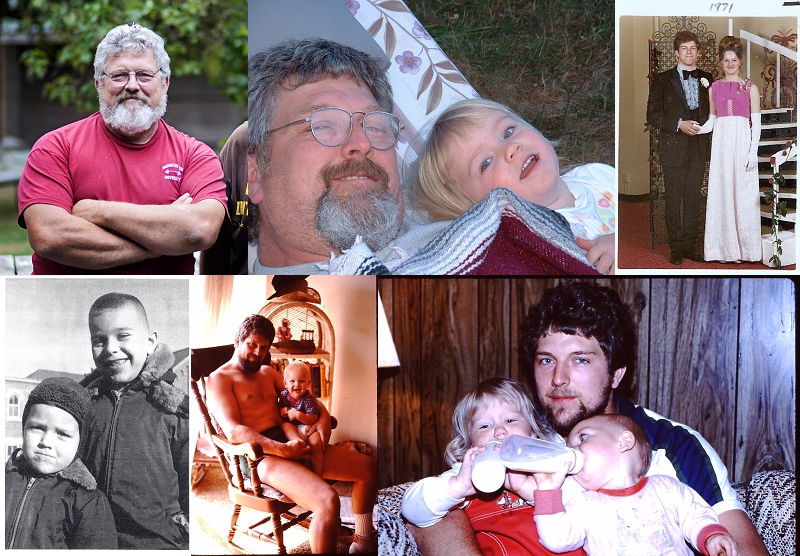 Before heading out on my trip, I downloaded the app from iTunes and set my account up on my phone.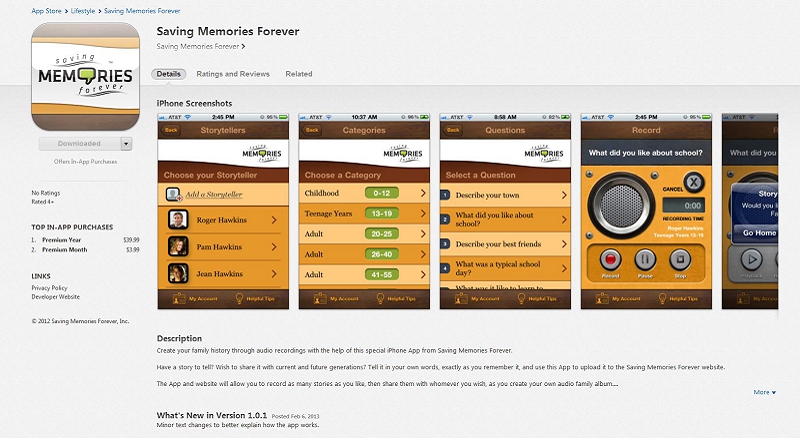 Then we drove the five billion hours to Washington state (okay, maybe it was only 30 hours, but it seemed like FOREVER).  I was prepped and ready to interview.
I took a picture of my parents and added them as storytellers.

Then my dad and I sat outside on the patio on a beautiful summer day with my phone and I started with some of the different prompts listed on the app.
It is organized by the following ages/categories.  Childhood (0-12), Teenage Years (13-19), Adult (20-25), Adult (26-40), Adult (41-55), Adult (56+), Jokes, Philosophy, Religion, Other Stories and Songs.  Most of these have questions/prompts listed under each one.
You can see here, some of the questions that I asked my dad.

The app was very easy to use.  I simply chose a question and pushed record.  If you record more than one story for each category, it simply names it "story1", "story 2" and so on.

When I was done recording, I quickly uploaded the story onto the website.  It was saved and organized for me to view later.
When I returned home, I logged into my account on the website and listened back through my stories.  I added tags to each story.  I am considering transcribing them also.  That sounds like a job for one of my teenagers who need practice typing. 🙂

I read through the user manual and learned that you can actually use your computer to record stories or record Skype conversations to add also.  This could be very useful for those relatives that you can't visit in person.
I am planning to use this app on my next visit to Kansas.  My husband's parents have a ton of great stories to share.
Here is the information on the different levels of membership.  You can be a free subscriber with some restrictions on the number of storytellers and listeners or you can pay $3.99 a month to be a premium subscriber.

All in all, I think this app and the corresponding website make interviewing family members so much easier than just using the recorder on your phone.  I like that the stories are organized by storyteller and that they can easily be shared through an email to your family members.  I was really surprised with how easy it was to set it all up and upload the stories to the website.
I think the only thing I would change about the app is that I would like the ability to type in my own questions or change the title of the stories afterwards.
I think that it would be useful to prepare specific questions for specific family members before an interview (ie. Tell me about your trip to Alaska in the 1980s or Tell me about how  you broke your leg.).  Even though each recorded story can be tagged, I think it would be easier to organize if you were able to name each story yourself with a descriptive title.  Maybe this is something that could be added in the future?