Clyde Cleveland Davidson was my husband's great-grandfather.
publi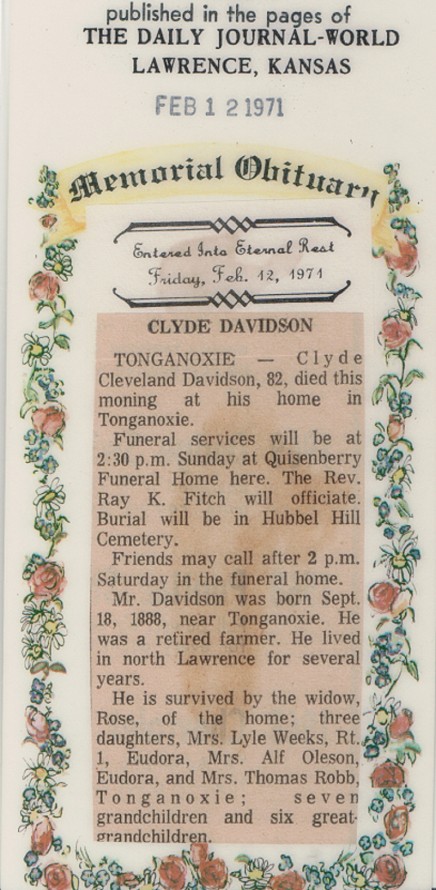 shed in the pages of THE DAILY JOURNAL-WORLD
LAWRENCE, KANSAS FEB 12, 1971
Memorial Obituary
Entered Into Eternal Rest Friday Feb 13, 1971
CLYDE DAVIDSON
TONGANOXIE – Clyde Cleveland Davidson, 82, died this morning at his home in Tonganoxie.
Funeral services will be held at 2:30 p.m. Sunday at Quisenberry Funeral Home here. The Rev. Ray K. Fitch will officiate. Burial will be in Hubbel Hill Cemetery.
Friends may call after 2 p.m. Saturday in the funeral home.
Mr. Davidson was born Sept. 18, 1888, near Tonganoxie.  He was a retired farmer.  He lived in north Lawrence for several years.
He is survived by the widow, Rose, of the home; three daughters, Mrs. Lyle Weeks, Rt. 1 Eudora, Mrs. Alf Oleson, Eudora, and Mrs. Thomas Robb, Tonganoxie; seven grandchildren and six great-grandchildren.