Ellsworth Pierce was a brother to my husband's great-grandmother, Lillian Pierce Cossaboon. This article is from the Bridgeton Evening News, dated 30 January 1918.
It sounds like he was quite the character!!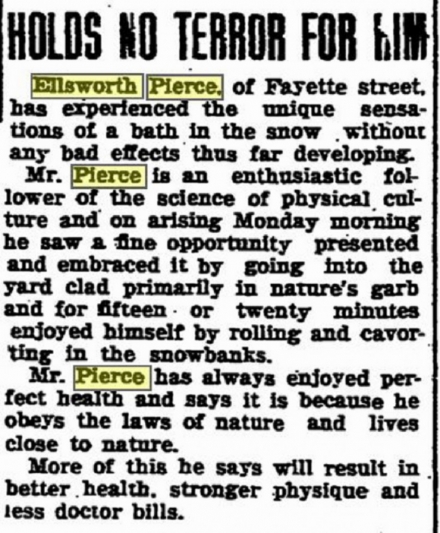 HOLDS NO TERROR FOR HIM
Ellsworth Pierce, of Fayette street, has experienced the unique sensations of a bath in the snow without any bad effects thus far developing.
Mr. Pierce is an enthusiastic follower of the science of physical culture and on arising Monday morning he saw a fine opportunity presented and embraced it by going into the yard clad primarily in nature's garb and for fifteen or twenty minutes enjoyed himself by rolling and cavorting in the snowbanks.
Mr. Pierce has always enjoyed perfect health and says it is because he obeys the laws of nature and lives close to nature.
More of this he says will result in better health, stronger physique, and less doctor bills.