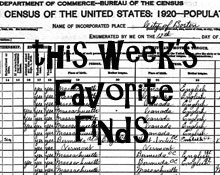 I am on vacation this next week, hopefully squeezing in a trip to the courthouse and a cemetery or two. We'll see.  Our main mission is to relax and take some time off from "real" life.
Here are my favorite finds for this week:
Did Your Ancestors Reboot? at Clue Wagon
A Look at Columbariums at A Grave Interest
Girlfriends! at Who Knew?
Are you ready to uncover the shocking? at Heritage Happens
The Bishop of China.  Really? at Into the Briar Patch: A Family Memoir.
A few new blogs that I started following: Silver Branches, Shaking the tree, AncesTrees, and Ahnentafel.
And some pictures from this past week: