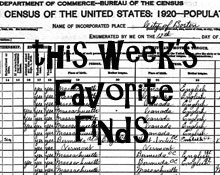 I haven't done a Follow Friday in quite some time.  I've been so busy in the past few months with starting my photography business, that photos have been taking up most of my computer time.  If only there were more hours in the day. 🙂 I'm thinking that I"m going to make this once or twice a month instead of every week.  That will give me more of a chance to peruse everyone's blogs and websites.
Here are some recent reads I enjoyed…
1. Judy,  of The Legal Genealogist, always does such a great job of explaining the legal mumbo jumbo that most of us don't understand.  A costly issue is a great post on bills of cost, which I have to admit I usually just file away without even really looking at.  Shame on me.
2. Is FamilySearch De-emphasizing Genealogical Research? over at Genea-Musings.  I have to agree that FamilySearch has gotten more confusing.
3.  I LOVE libraries!  And so should you at Gena's Genealogy.   I love libraries too Gena!!  🙂
4. Thankful Thursday: Daniel D. Lightner, The Abolitionist Part 1 and Part 2 over at Leaves for Trees.
5. Cousin Wendy at Shaking Leaves found a family secret.  I love unearthing secrets. 🙂
And here are a few pictures from this past week: