I was surprised by this document, which I found on my recent trip to Leavenworth.
There has been a bit of a mystery surrounding Martha Jane Davidson, sister to my husband's great-great grandfather, Thomas Talbot Davidson.  I knew that she was married to a Dr. Elias Stafford and that she moved away, she was much younger than him (about 25 years), and that she seems to disappear.  Elias had been married before and had 4 children with his first wife, Eliza Ann.  I wrongly assumed that she had died and then he married Martha.
Apparently, he was having an affair with Martha.  He made his wife sign away their homestead, took the money and left with Martha – leaving his wife with nothing.  He was a physician and made around $2000 a year, so he had enough money to give her something to live off of.  No wonder why Martha and Elias left town. 🙂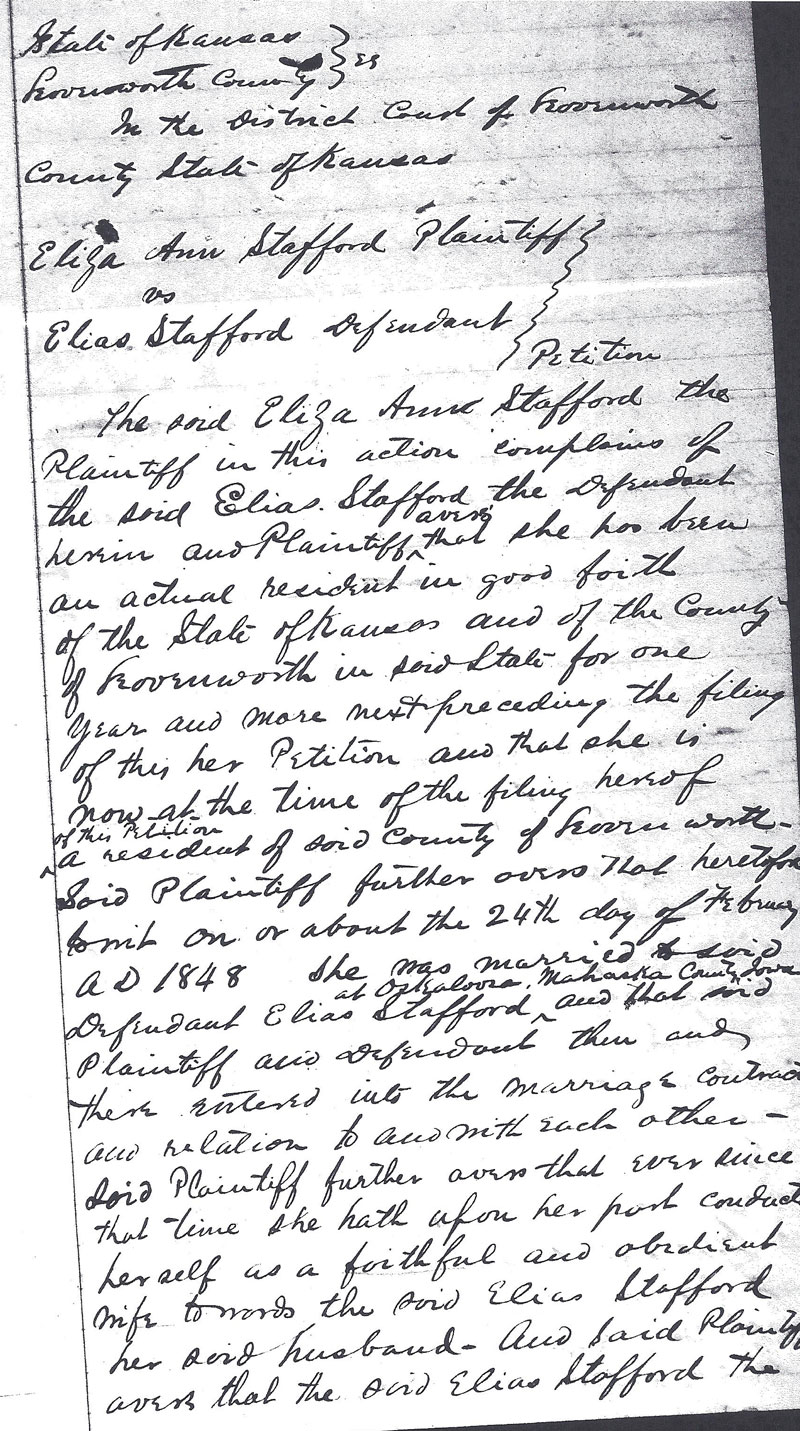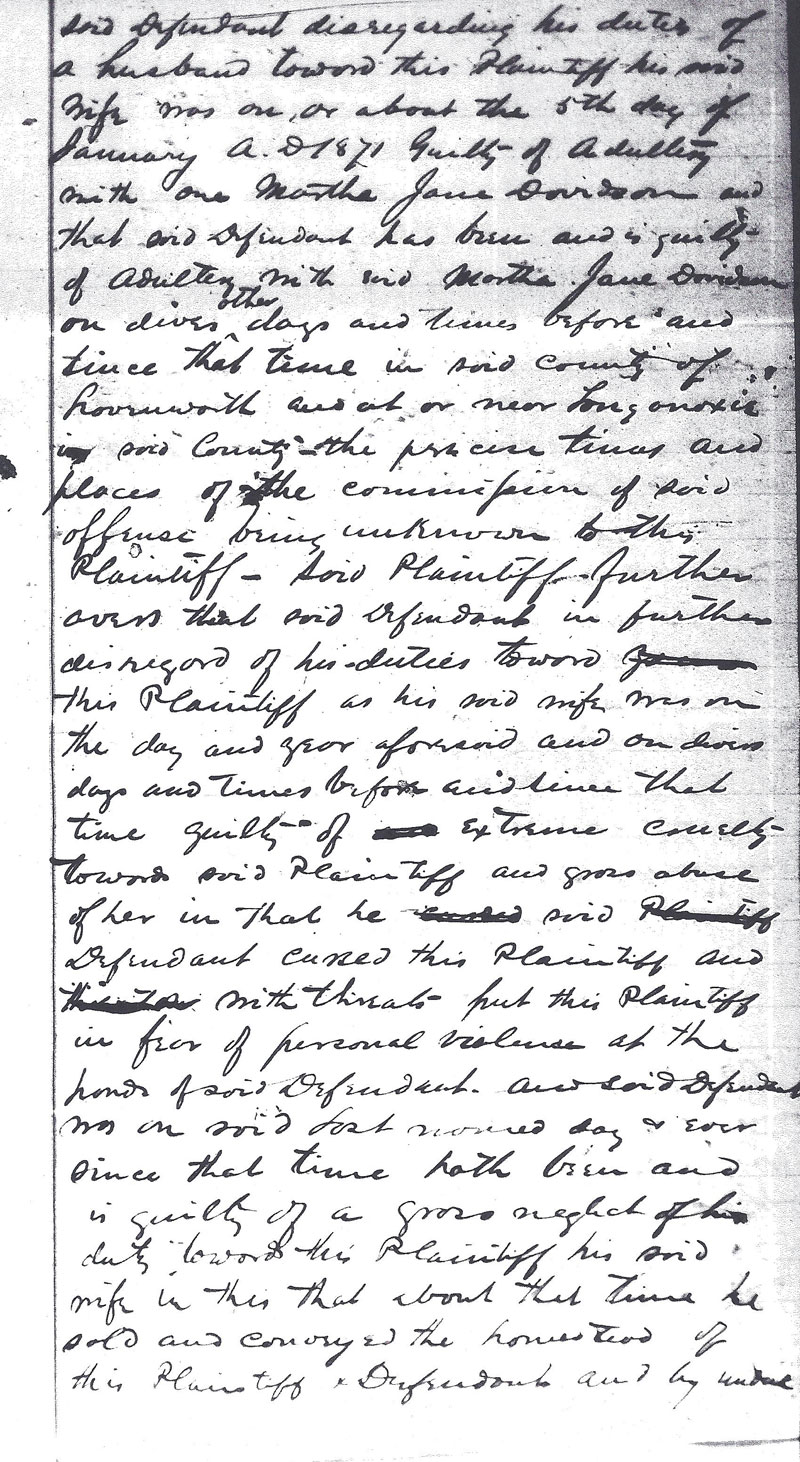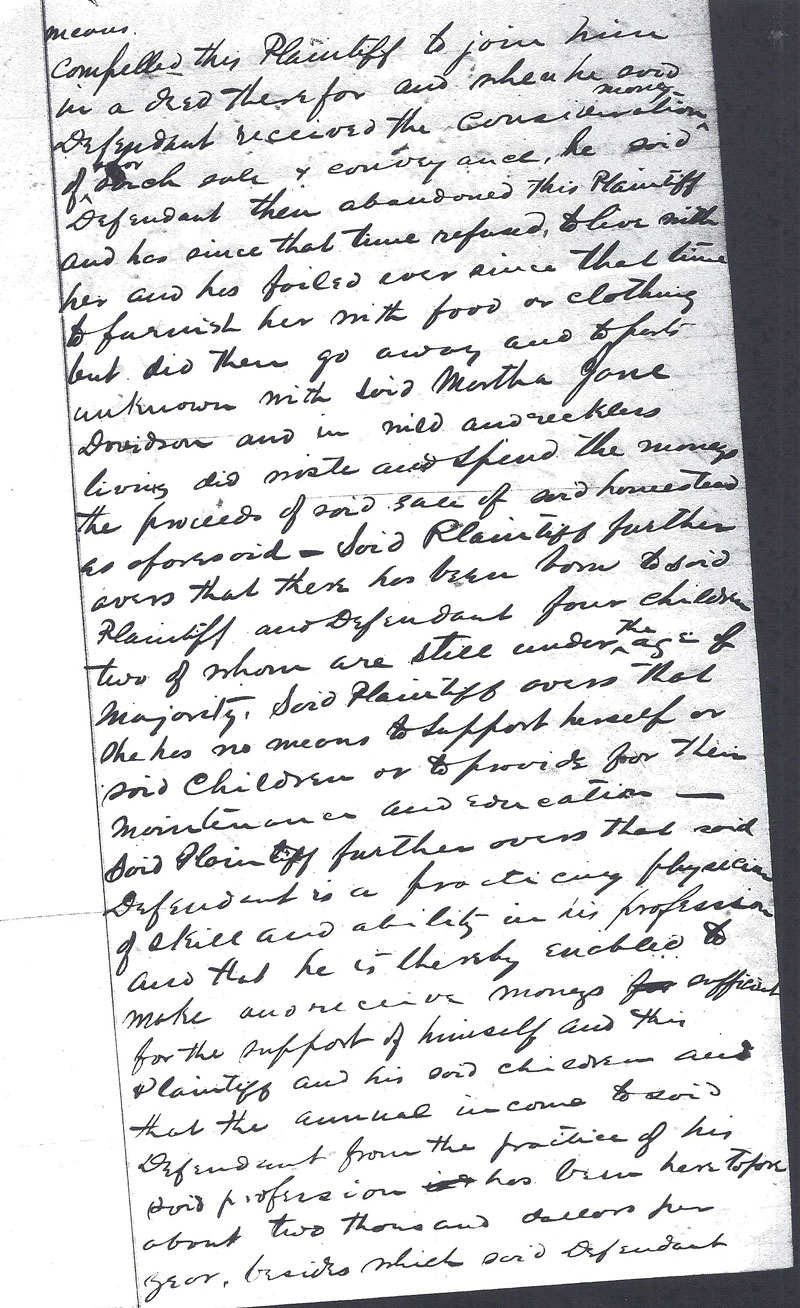 State of Kansas
Leavenworth County} SS
In the District Court of Leavenworth County State of Kansas
Eliza Ann Stafford Plaintiff
vs
Elias Stafford Defendant } Petition
The said Eliza Ann Stafford the Plaintiff in this action complains of the said Elias Stafford the Defendant herein and Plaintiff avers that she has been an actual resident in good faith of the State of Kansas and of the County of Leavenworth in said State for one year and more next preceding the filing of this her Petition and that she is now at the time of the filing hereof of this Petition a resident of said County of Leavenworth – Said Plaintiff further avers that heretofor to wit on or about the 24th day of February AD 1848 she was married to said Defendant Elias Stafford at Oskaloosa, Mahaska County, Iowa and that said Plaintiff and Defendant then and there entered into the marriage contract and relation to and with each other – said Plaintiff further avers that ever since that time she hath upon her part conducted herself as a faithful and obedient wife towards the said Elias Stafford her said husband. And said Plaintiff avers that the said Elias Stafford the said Defendant disregarding his duties of a husband toward this Plaintiff his said wife was on or about the 5th day of January AD 1871 Guilty of Adultery with one Martha Jane Davidson and that said Defendant has been and is guilty of Adultery with said Martha Jane Davidson on dies other days and times before and since that time in said County of Leavenworth and at or near Tonganoxie in said County the precise times and places of said offense being unknown to the Plaintiff – said Plaintiff further avers that said Defendant in further disregard of his duties toward this Plaintiff as his said wife was on the day and year aforesaid and on ____ days and times before and since that time guilty of extreme cruelty toward said Plaintiff and gross abuse of her in that he said Defendant caused this Plaintiff and with threats put this Plaintiff in fear of personal violence at the hands of said Defendant and said Defendant was on said ____ ____ day and ever since that time hath been and is guilty of a gross neglect of his duty towards this Plaintiff his said wife in this that about this time he sold and conveyed the homestead of this Plaintiff & Defendant and by undue means.
compelled this Plaintiff to join him in a deed therefor and when he said Defendant received the consideration of + for such sale + convey such, he said Defendant then abandoned this Plaintiff and has since that time refused to live with her and has failed ever since that time to furnish her with food or clothing but did then go away and to parts unknown with said Martha Jane Davidson and in wild and reckless living did waste and spend the money, the proceed of said sale of said homestead as aforesaid. Said Plaintiff further avers that there has been born to said Plaintiff and Defendant four children two of whom are still under the age of majority. Said Plaintiff avers that she has no means to support herself or said children or to provide for their maintenance and education – Said Plaintiff further avers that said Defendant is a practicing physician of sill and ability in his profession +  that he is thereby enabled to make and receive moneys sufficient for the support of himself and this Plaintiff and his said children and that the annual income to said Defendant from the practice of his said profession has been heretofore about two thousand dollars per year, ____ which said Defendant has other means and property the amount and value of which is unknown to this Plaintiff – Said Plaintiff now therefore prays that she be divorced from the bonds of matrimony with said Defendant and that the marriage contract and relation heretofore existing between this Plaintiff Eliza Ann Stafford and said Defendant Elias Stafford be dissolved and held for naught and this Plaintiff released from all obligations of the same. Said Plaintiff further prays that such divorce be granted for + because of the fault of said Defendant and that he be forever barred from any claim in or to any property which may be acquired by this Plaintiff.  Said Plaintiff further prays that she be decreed the custody control and management of said two minor children John M. Stafford aged 18 years and Charles E. Stafford aged 8 years and Plaintiff further prays the court that she be allowed such alimony out of the property of said Defendant as the court shall think reasonable not less than two thousand five hundred dollars in gross or three hundred dollars per annum in installments as the court may seem just and equitable and this Plaintiff prays for all such other and  further relief in the ____ as to the court should seem meet and proper and she ___  ____ entitled to.
Green + Foster  Atty for Plaintiff
State of Kansas
Leavenworth County} SS
Eliza Ann Stafford of lawful age and being duly sworn makes oath and says that she is the Plaintiff in the above entitled action. Affiant further makes oath and says that the foregoing petition in said action is true.
Eliza Ann Stafford [signed]
Signed in my presence and sworn before me this 18th day of April AD 1871
MJ VanDoren Notary Public
___ sais brough to obtain divorce alimony + custody of children + other relief for all of which __ petition. Clerk of District Court will please issue Summons to said Defendant returnable according to Law.
Green + Foster Attys for Plff