Pearl Pewsey was a daughter of William Albert Pewsey and Mary Ellen Robbins.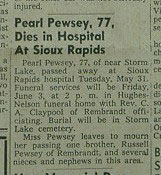 Pearl Pewsey, 77, Dies in Hospital At Sioux Rapids
Pearl Pewsey, 77, of near Storm Lake, passed away at Sioux Rapids hospital Tuesday, May 31.  Funeral services will be Friday, June 3, at 2 p.m. in Hughes-Nelson funeral home with Rev. C. A. Claypool of Rembrandt officiating. Burial will be in Storm Lake cemetery.
Miss Pewsey leaves to mourn her passing one brother, Russell Pewsey of Rembrandt and several nieces and nephews in this area.