Charles Henry Pewsey was a son of William Albert Pewsey and Mary Ellen Robbins.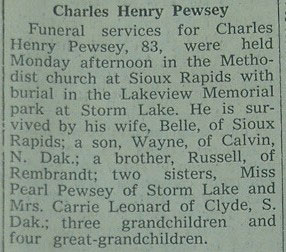 Charles Henry Pewsey
Funeral services for Charles Henry Pewsey, 83, were held Monday afternoon in the Methodist church at Sioux Rapids with burial in the Lakeview Memorial park at Storm Lake.  He is survived by his wife, Belle, of Sioux Rapids; a son, Wayne, of Calvin, N. Dak.; a brother, Russell, of Rembrandt; two sisters, Miss Pearl Pewsey of Storm Lake and Mrs. Carrie Leonard of Clyde, S. Dak; three grandchildren and four great-grandchildren.