James Baker was my husband's 3rd great-grandfather.  He spent the majority of his life in Indiana County, PA but eventually moved with his family to the Lawrence, Kansas area, where he died in 1885.
I didn't find a full-up detailed obituary about him, but I found two small death announcements.
One was in the Indiana Democrat in Indiana, PA where he used to live. (Dated 11/26/1885)

James Baker, formerly of Marion, this county, recently died in Kansas.
Not a lot of info in that one, was there?
Unfortunately, there isn't much in the local Lawrence, Kansas paper – where he had lived for about 6 yrs before his death: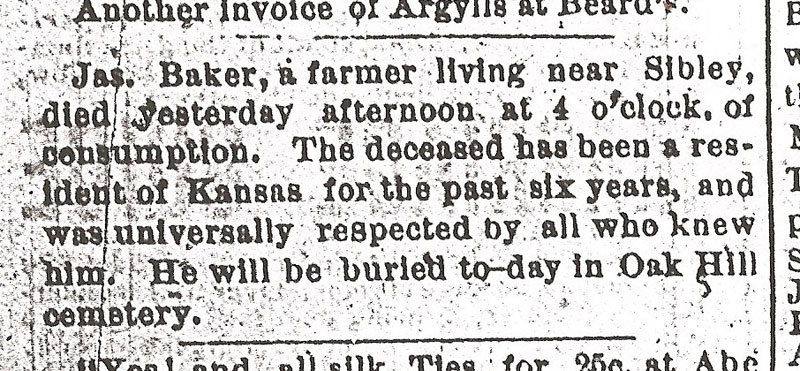 Jas. Baker, a farmer living near Sibley, died yesterday afternoon at 4 o'clock, of consumption. The deceased has been a resident of Kansas for the past six years, and was universally respected by all who knew him.  He will be buried to-day in Oak Hill cemetery.