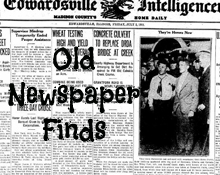 Whenever I'm searching through old newspapers for my relatives, I find myself reading all of the interesting and sometimes hilarious articles and ads of the time.
Here is one I found in the Indiana Messenger, Indiana, PA from 1884.  It sounds like it belongs in the National Enquirer. 🙂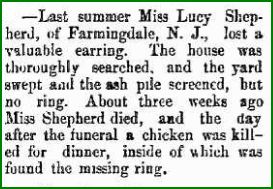 Last summer Miss Lucy Shepherd, of Farmingdale, N.J., lost a valuable earring. The house was thoroughly searched, and the yard swept and the ash pile screened, but no ring.  About three weeks ago Miss Shepherd died, and the day after the funeral a chicken was killed for dinner, inside of which was found the missing ring.