Sometimes obituaries won't ever be found.  I'm afraid that's probably the case of the obituary of my husband's 4th great-grandfather, Thomas Stafford.
I went to Oskaloosa, Ia and searched through the newspapers on microfilm.  Unfortunately, the months surrounding his death are missing.  Perhaps someday they will be recovered somewhere, but as for now they just aren't there.
In lieu of an obituary (which I like to imagine was incredibly detailed since Thomas Stafford was a pillar of the community), what I did find was this legal notice.  While it's not what I was looking for, it does give a pretty substantial list of his heirs and lists his property.  I'll take what I can get.  I wonder if this notice was simply a legal formality, or if Elizabeth was genuinely worried about not receiving her dower interest.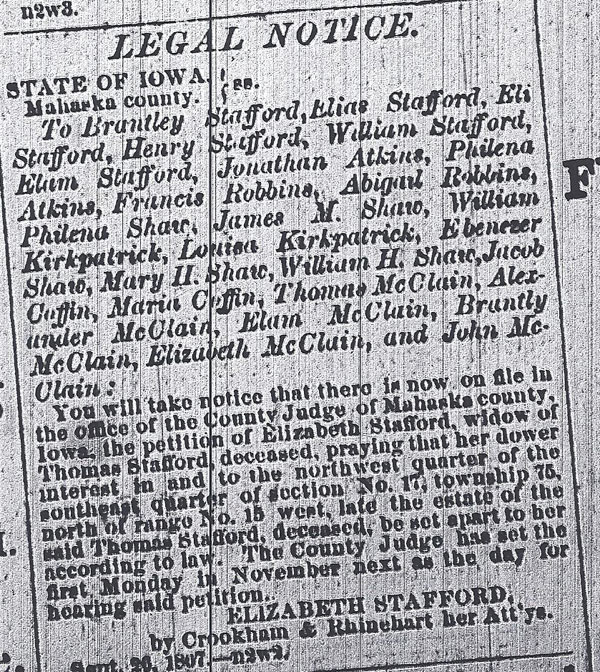 LEGAL NOTICE
STATE OF IOWA, Mahaska County} SS
To Brantley Stafford, Elias Stafford, Eli Stafford, Henry Stafford, William Stafford, Elam Stafford, Jonathan Atkins, Philena Atkins, Francis Robbins, Abigail Robbins, Philena Shaw, James M. Shaw, William Kirkpatrick, Louisa Kirkpatrick, Ebenezer Shaw, Mary H. Shaw, William H. Shaw, Jacob Coffin, Maria Coffin, Thomas McClain, Brantly McClain, Elizabeth McClain, and John McClain:
You will take notice that there is now on file in the office of the County Judge of Mahaska County, Iowa, the petition of Elizabeth Stafford, widow of Thomas Stafford, deceased, praying that her dower interest in and to the northwest quarter or the southeast quarter of section No. 17, township 75, north of range No. 15 west, late the estate of the said Thomas Stafford, deceased, be set apart to her according to law.  The County Judge has set the first Monday in November next as the day for hearing said petition.
Elizabeth Stafford, by Crookham & Rhinehart her Att'ys.  Sept. 26, 1867
Legal Notice