Wallace Edwards was a brother to my great-great grandfather, John Edwards Jr.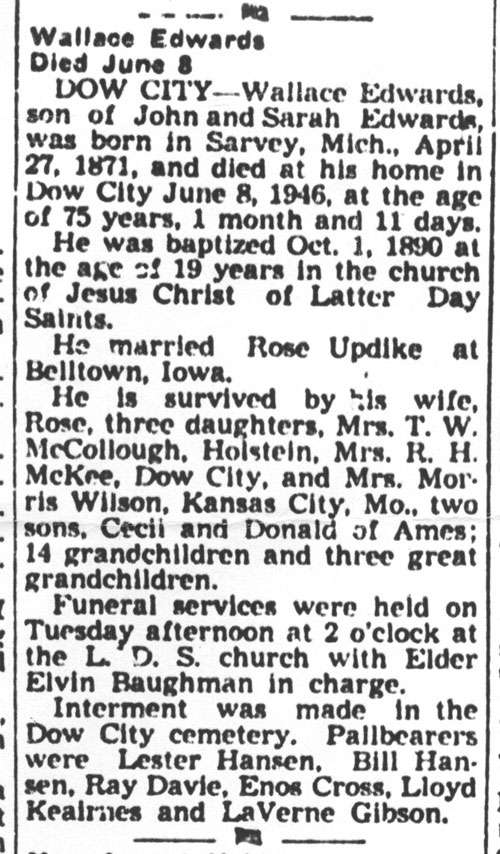 Dow City – Wallace Edwards, son of John and Sarah Edwards, was born in Sarvey, Mich., April 27, 1871, and died at his home in Dow City June 8, 1946, at the age of 75 years, 1 month, and 11 days.
He was baptized Oct. 1, 1890 at the age of 19 years in the church of Jesus Christ of Latter Day Saints.
He married Rose Updike at Belltown, Iowa.
He is survived by his wife, Rose, three daughters, Mrs. T.W. McCollogh, Holstein, Mrs. R.H. McKee, Dow City, and Mrs. Morris Wilson, Kansas City, Mo; two sons, Cecil and Donald of Ames; 14 grandchildren and three great grandchildren.
Funeral services were held on Tuesday afternoon at 2 o'clock at the L.D.S. church with Elder Elvin Baughman in charge.
Interment was made in the Dow City cemetery. Pallbearers were Lester Hansen, Bill Hansen, Ray Davie, Enos Cross, Lloyd Keairnes and LaVerne Gibson.