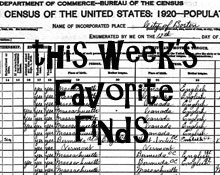 What a week!  I have enjoyed hearing about everyone's census finds.  I haven't had a whole lot of luck yet, but that's simply because I have no idea where most of my ancestors were living in 1940.  I have managed to index a few pages and will try to continue to do at least one or two a day.  I'm thinking about training a kid or two to index.

My favorite finds from this week:
And I honestly don't have any pictures to share this week.  I've been too busy to take any!!  I plan to remedy that next week though.