William Albert Pewsey was a brother to my husband's great-great grandmother, Rosanna Jeanette Pewsey Hollingsworth.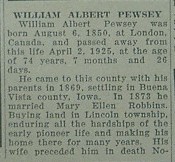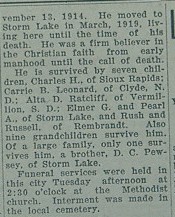 WILLIAM ALBERT PEWSEY
William Albert Pewsey was born August 6. 1850, at London, Canada, and passed away from this life April 2, 1925, at the age of 74 years, 7 months and 26 days.
He came to this county with his parents in 1869, settling in Buena Vista county, Iowa. In 1873, he married Mary Ellen Robbins.  Buying land in Lincoln township, enduring all the hardships of the early pioneer life and making his home there for many years.  His wife preceded him in death November 12, 1914.   He moved to Storm Lake in March 1919, living here until the time of his death.  He was a firm believer in the Christian faith from early manhood until the call of death.
He is survived by seven children, Charles H. of Sioux Rapids, Carrie B. Leonard, of Clyde N.D.; Alta D. Ratcliff, of Vermillion, S.D.; Elmer G. and Pearl A. of Storm Lake and Rush and Russell, of Rembrandt.  Also nine grandchildren survive him.  Of a large family, only one survives him, a brother, D.C. Pewsey of Storm Lake.
Funeral services were held in this city Tuesday afternoon at 2:30 o'clock at the Methodist church.  Interment was made in the local cemetery.