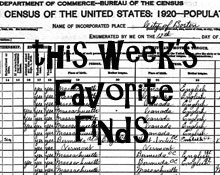 I have had a very busy couple of weeks.  We took a great vacation around Arizona and hit many National Parks – so much fun!!  I'm currently taking a spouses' leadership development course (ie. how to be a Sergeant Major's wife) which is every night from 5-10 for a couple of weeks.  It has been making for some long days.  Oh, and I'm going to be walking my first marathon this weekend – the Bataan Memorial Death March at White Sands Missile Range.  Whew!!
Before I go on to my favorite posts, I want to mention that Google Friend Connect is no longer working with WordPress blogs.  And I have a WordPress blog.  That means that if you had me in your reader through this service, then I'm no longer there.

  Please add me again!!
On to some of my favorite finds…
Never Make Love in a Buggy.  Sounds like good advice.  I'd never heard of this little ditty before, which was posted over at A Hundred Years Ago.
 I'm excited about the new series premiering this weekend on PBS – Finding Your Roots.  If only I was going to be at home when it aired.  I wonder if it will be available online afterwards.  I will have to check and see.
I was interested to see the new genealogy textbooks for kids by Jennifer Holik available from Generations.  I would love to try them out with my own kids in our homeschool and I've often thought that I might like to teach a family history class in our homeschool co-op.   It would be nice to have a textbook to use in class rather than coming up with my own materials.  I think it's so important to include family history along with world history in a child's education.
There are some interesting GeneaWebinars coming up this week.  I would really like to take the one entitled Juggling Complex Projects While Staying on Track and maybe The Pursuit from Genealogy Hobbyist to Professional.
I love seeing how much places have changed (or stayed the same over years).  Karen at Ancestor Soup posted an old and new house picture on her blog.
I have a lot of ancestors of Irish descent, so I found Seeking the Flock of St. Patrick over at Catholic Gene to be a very informative post!
Who Do You Think You Are? is on tonight!  I love Helen Hunt, so I'm looking forward to this episode.
There won't be any Geneabloggers radio tonight – taking a week off for spring break.  Good, because it will give me a chance to get caught up on my podcasts.
The Masterpiece over at Family Archaeologist is a great read.
A very happy blogiversary to Debi Austen over at Who Knew?  Love the birthday cake pictures.
Some pictures from this past week: