Samuel and Sarah Weeks were my husband's 3rd great-grandparents. Samuel remarried to Martha after the death of his wife.
I think that they must have made a mistake in the date on the deed.  Sarah Weeks didn't die until 1875 and Samuel married Martha in October of 1876. It would have been a simple mistake to leave the seven off.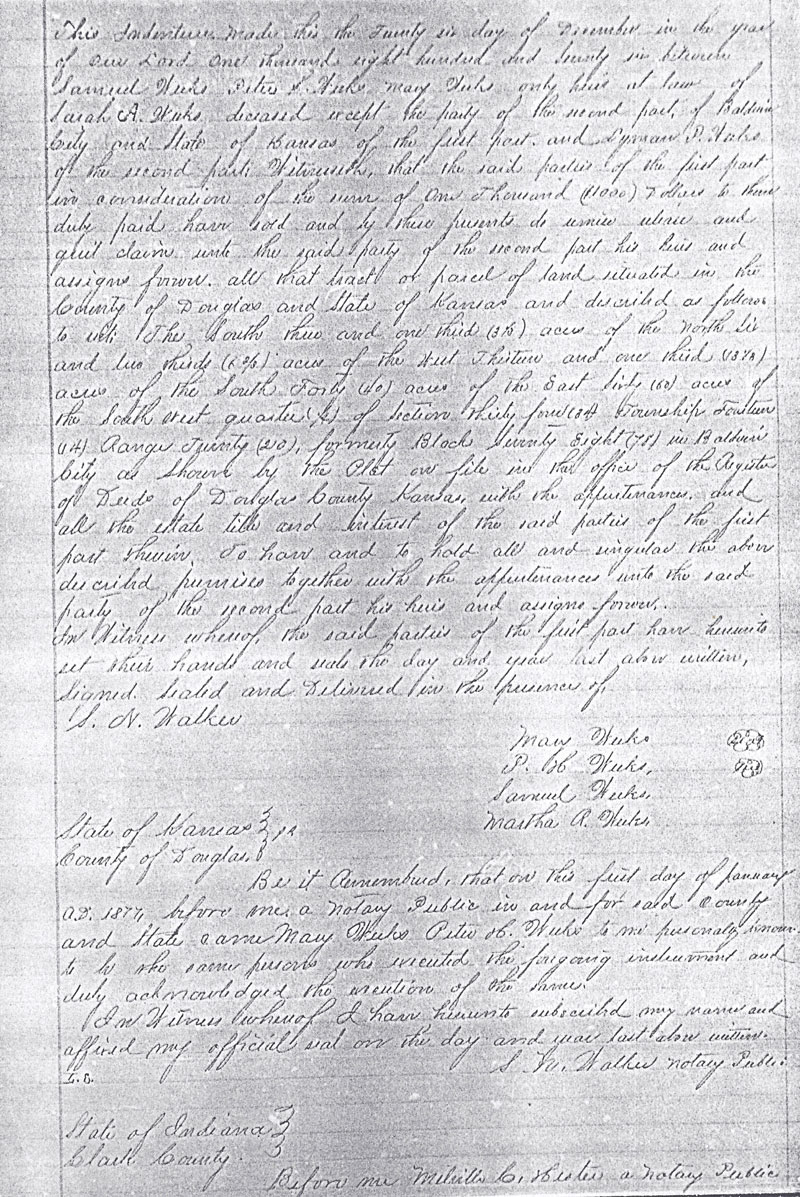 This Indenture made this the Twenty six day of December in the year of our Lord one thousand eight hundred and Seventy in between Samuel Weeks Peter H. Weeks Mary Weeks only heirs at law of Sarah A. Weeks deceased except the party of the second part, of Baldwin City and State of Kansas of the first part and Lyman P. Weeks of the second part.  Witnesseth, that the said parties of the first part in consideration of the sum of One Thousand ($1000) Dollars to them duly paid have sold and by these presents do _____ ______ and quit claim unto the said party of the second part his heirs and assigns forever.  all that tract or parcel of land situated in the County of Douglas and State of Kansas and described as follows to wit:  The South three and one third (3 1/3) acres of the North Six acres of the South Forty (40) acres of the East Sixty (60) acres of the South West quarter (1/4) of section thirty four (34) Township Fourteen (14) Range Twenty (20) formerly Block Seventy Eight (78) in Baldwin City as shown by the Plot on file in that office of the Register of Deeds of Douglas County Kansas, with the appertunances unto the said party of the second part his heirs and assigns forever.
In witness whereof, the said parties of the first part have hereunto Signed. Sealed and Delivered in the presence of S.N. Walker
Mary Weeks {seal}
P. H. Weeks {seal}
Samuel Weeks
Martha R. Weeks
State of Kansas
County of Douglas}
Be it Remembered that on this first day of January A.D 1877, before me a Notary Public in and for said County and state came Mary Weeks Peter H. Weeks to me personally known to be the same persons who executed the foregoing instrument and duly acknowledged the execution of the same.
In Witness whereof I have hereunto subscribed my name and affixed my official seal on the day and year last above written. S.N. Walker Notary Public
State of Indiana
Clark County}
Before me William C. Hester a Notary Public in and for said Clark County and State of Indiana personally came Samuel Weeks and Martha R. Weeks and acknowledged the execution of the foregoing deed.
Witness my hand + notarial seal William C. Hester Notary Public
Recorded June 16 1877 at 11 am ? Register of Deeds