My Swedish roots have been calling me.  I don't know what it is, but I'm so interested in following these lines a bit more.  Swedish records are wonderful and I know that there is so much information just waiting for me to find it – all in the church records.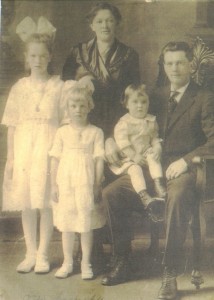 I've devoted my free time this week to searching this line. It's nice to have a little focus instead of randomly skipping from line to line.  I definitely need more focus. I tend to be a scatterbrained genealogist.
Here are some (very random) observations and thoughts that have crossed my mind while researching my Swedes:
When I was a kid, I don't remember my Grandma Eleanore every doing anything "Swedish".  Her parents were both born and married in Sweden.  They had 2 children before immigrating to Seattle and another 2 afterward.  My grandma was the youngest and I suppose that she simply was an American.  Her older sister seemed to have held onto her Swedish roots more, but she spoke Swedish as a first language, and married another Swedish immigrant.  I wonder what my grandma's childhood was like – did her parents speak Swedish or English to her?
I just realized that both of my great-grandparents (my Swedish immigrants) were fatherless.  Lars Julius Bergman's father died one month before he was born.  His wife, Eugenia Klarstrom's father died when she was 2 years old. I wonder if this had something to do with them deciding to leave Sweden.
The number of children born out of wedlock in Sweden in the late 1800's was much higher than I would have thought.  I have a number of ancestors whose parents weren't married when they were born. I never would have guessed that this was so common.
It's really hard reading documents written hundreds of years ago in another language, with sometimes different script and abbreviations.  Trying to figure out place names has been a challenge too.  The Family Search site has been helpful in that it lists out the place names of the different parishes.  I never would have figured out most of them without this tool.
I've had an easy enough time finding my ancestors who lived in small rural communities.  It's not so easy to search page by page through a big city though.  I suppose I'll just have to put a movie on and start looking through the entire city of Gavle for them.
The Swedes were not original with their names.  It seems like there are just a handful of names which are used over and over and over again: Lars, Anders, Nils, Olof, Johan, Per, Karl, Erik, Sven, Kjerstin/Christina, Catherina, Maria, Karin, Brita etc.  It makes finding MY Lars and Per and Nils and Kjerstin a lot harder.
Add to that the fact that they didn't have last names, and it gets even more difficult.  It is helpful though since it gives you their father's name.  It's just a lot of the same names over and over which is sometimes hard to sift through.
I'm thankful that at least a couple of my ancestors adopted a surname early on (before 1800) – Klarstrom and Bennberg.  It has made them a bit easier to find amongst all of the -sons and -dotters.
I think it's really cool that I have ancestors that came through Ellis Island.  Most of my other lines came to America much earlier than my Swedish ancestors (who came in 1913-1914).
I really want to go to Sweden someday.
I'm wishing that America had such wonderful parish records as Sweden has.  Household examinations, births, deaths, moving ins and outs, burials, baptisms, etc.  It's WONDERFUL not having to skip 10-20 years to find them in the census.  The household examinations are continuous – every year!!!
I realize that I'm very lucky that I knew what parishes my family came from, because it saved me a lot of research time.
Searching through the parish records has reminded me of the fact that I really need to use a research log – so I can mark down which records I've already searched.  It's so uncool to search the same records again (and again and again in some cases).
Do YOU have Swedish Roots?