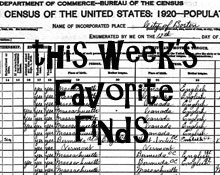 The weeks are really flying by for me. I did a bit of genealogy this past week – mostly transcribing documents from the my pile of papers that need to be scanned and entered into my computer.  It feels so good to get them entered, even if it's only a little at a time.  It all adds up.
Besides genealogy and homeschooling the kids, I managed to walk 43 miles this week!!!  That is a lot of miles, if I do say so myself.  I have the sore legs to prove it. 🙂
Oh, we're also starting plan a trip for Spring Break.  Unfortunately, it doesn't look like I'm going to be able to include any family history research along the way. I just don't have any ancestors who lived in Arizona and New Mexico – and we're going to make a big loop around both states, hitting Tombstone, Tucson, Phoenix, Sedona, Flagstaff, the Grand Canyon, and Albuquerque to name a few places .  (We'll mostly just be hitting the National Parks along that route – my husband steers clear of big cities when he can).  We don't have any definite plans yet, but I think it will be a beautiful drive!!  And I will (of course) take tons of pictures.
And on to this week's favorite finds:
And a few pictures from this week.  We went on a hike at Dripping Springs near Las Cruces, NM.  It was a gorgeous walk!