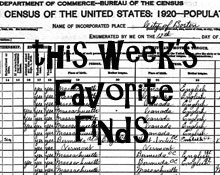 I have to admit that I got less genealogy reading done this week than normal.  The kids started back to school this past Monday and since I'm the teacher (we homeschool), I've had less free time.  I'm hoping to get caught up this weekend (which is a 4-day for us!)
That being said, I still have a few favorite finds from this past week:
And of course some pictures from my adventures.  This week, some friends and I grabbed our cameras and took a walk around downtown El Paso.  It was interesting!!