According to the 1900 census, my 3rd great-grandparents had 7 children, but only 3 of them were living.  Those three children were the only ones I had names for, and one of them was actually adopted.
This census record was the only clue I had that they had more than the children that survived to adulthood.  It also made sense that they had adopted – perhaps because they had lost so many children and couldn't have any more naturally.
One of the treasures I found in John Edwards' pension file was a list of his children's names – even the ones that didn't survive to adulthood.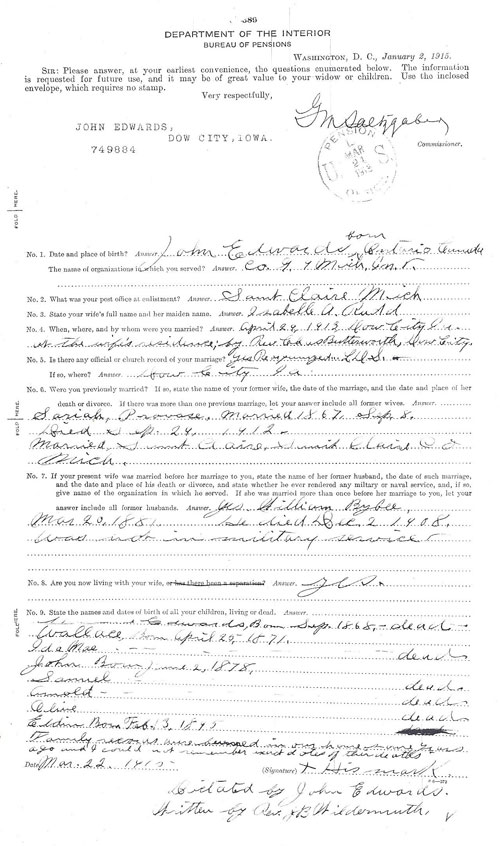 As you can see, John stated that the family records were burned in a fire, so he didn't have exact dates for the children's births.  (Of course, my husband can't seem to remember any of my children's birthdays, so this doesn't surprise me a bit!)
I now know that they had the following children:
? Edwards (if any of you happen to have superhero vision and can read the first name of this child, I'd be forever grateful.)  Born Sept 1868.  This child must have died before 1870, because he/she is not with them in the census.
Wallace, born 25 April 1871.  He died in 1946.
Ida Mae
John, born 2 June 1878.  This is my great-great grandfather.
Samuel
Arnold
Olive
Eldin, born 13 Feb 1895 (he was adopted).
So, my question is – was there another natural-born child that was living in 1900 that I was unaware of  or was Sarah unsure about how to answer the question about her children?  She said that she had 7 children (which she did give birth to 7 children) but 3 of them were living (her adopted son was one of these three).  Minor detail, but I'm sure it's not important.
I'm so happy to finally put some names to these children who died at such young ages.  I now wonder if maybe I could find their gravestones, if there are any existing.  They could be in Michigan, Canada, or Iowa – so a bunch of places to look.