I know that my 3rd great-grandfather, John Edwards,  is only one of many boys who lied about their age to serve in the Civil War, but I still find it fascinating.
I had often wondered how exactly he had served.  He was born 11 September 1848, near London, Ontario, Canada.  That makes him pretty young for a soldier – about 12 at the start of the war.
I knew what unit he served in (Co. G. Michigan Infantry), but I didn't have any dates and I was unable to get his pension records for a number of years.  I finally received them a couple of weeks ago and many of my questions are now answered.
First of all, he didn't enlist until near the end of the war – 15 March 1865 at Pontiac, Michigan.  He would have been 16 years old at the time.  So, he wasn't a 12 yr old drummer boy, he was close to being a man.
Second, he LIED about his age.  All of the documents pertaining to his pension state that he was born on 11 Sept 1846.

The only document in his pension file that has his correct birth date is what was listed on his death certificate.  A copy of the certificate was included in his file as his wife was trying to get back payments from a check that was returned.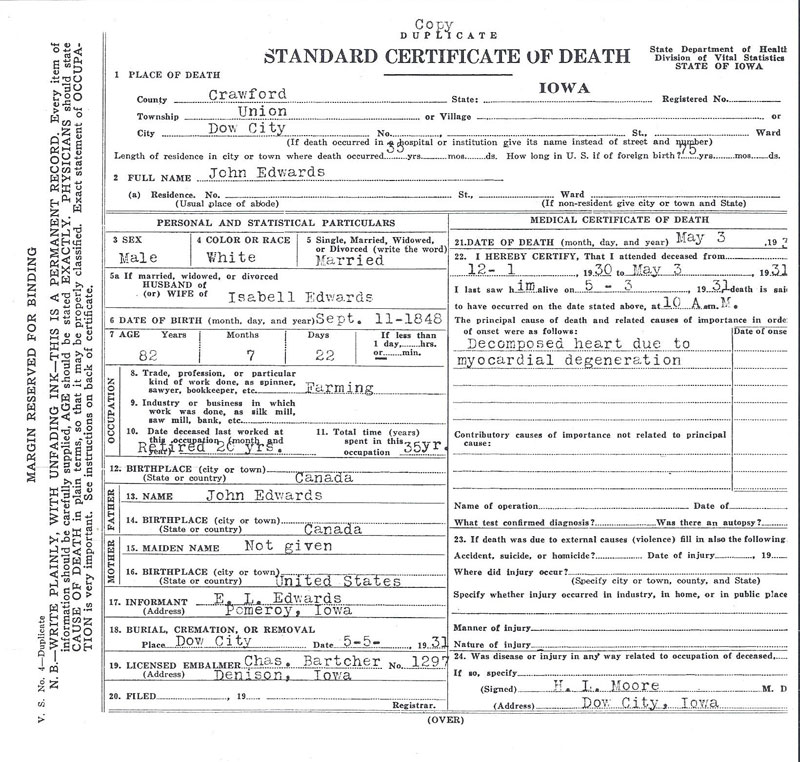 The 1848 date is also what is listed in his obituary and it matches up with his age in census records.
These two years he added to his age, would have made him 18 at the time of his enlistment, instead of the 16 he really was.
He was the 10th of 11 children and I wonder if any of his older 3 brothers also served.  It's something I haven't looked into yet, but perhaps he was feeling left out – or maybe he was just very patriotic and wanted to serve his country.
Either way, I find it interesting that he would voluntarily join the Army and risk his life at such a young age.  Can you imagine many 16 year olds today doing the same?
Do you have any ancestors who lied about their age to join the Army?