I have this humongous tub of documents and notes and pictures that I haven't yet digitized, or entered into Legacy, or blogged about.  I can't ever seem to get caught up with all of the cool things I've found, but I know that I really need to get it done – otherwise I'm going to spend a lot of precious time backtracking, searching for things that I already know.
On Christmas Eve, while my kids were busily playing with their new toys (they each opened one present early), I spent a few hours scanning in documents.  Honestly, I barely even made a dent in the pile – but it felt good to at least start sifting through all of it.
Among the documents in this pile was a will for my husband's 3rd great-grandfather, James H. Leonard (1796-1892).  It's been sitting there for at least five years.  🙁
Well, now it will see the light of day and be posted for the world to see!!!  I'm only transcribing the actual will, below the images.
Do you have any important documents that haven't seen the light of day for years?  Share them!!!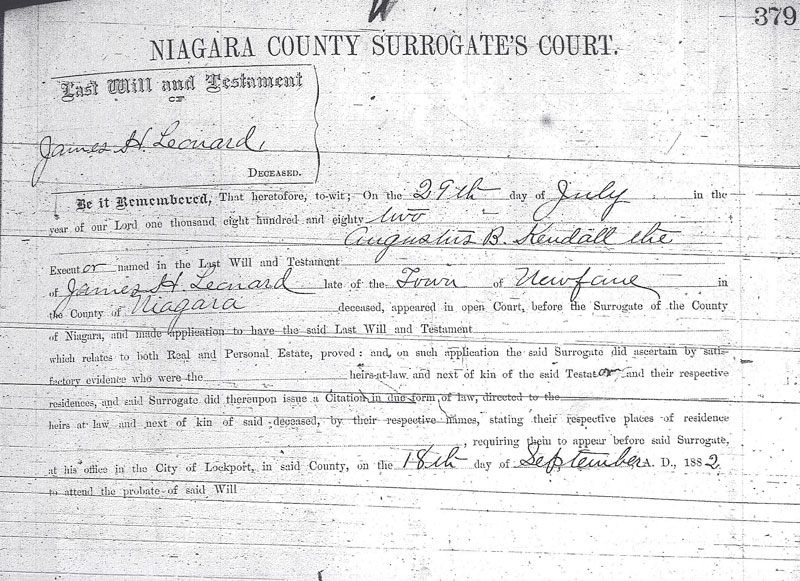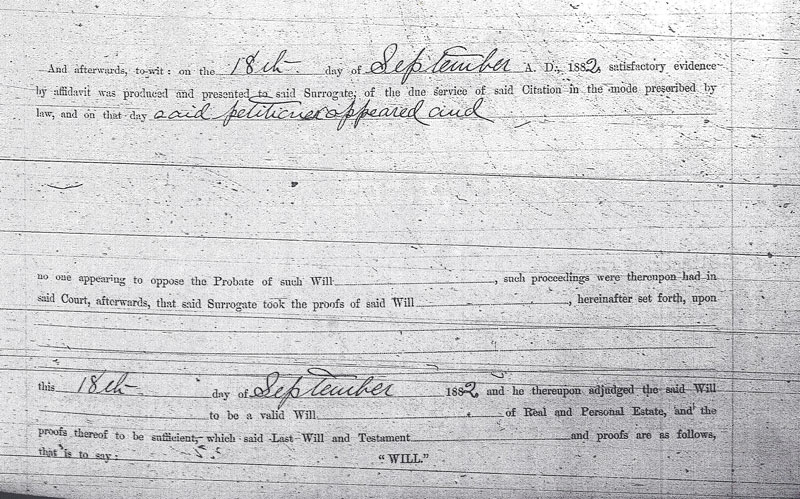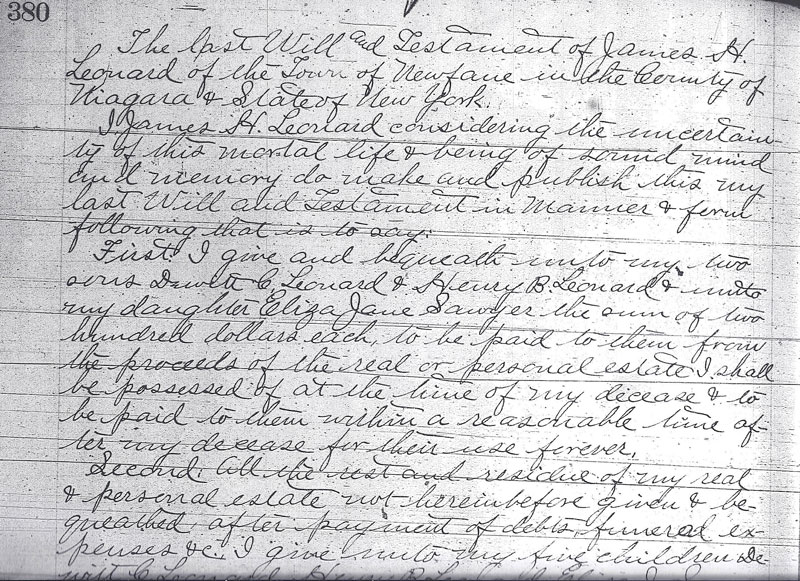 The last Will and Testament of James H. Leonard of the Town of Newfane in the County of Niagara + State of New York.
I, James H. Leonard considering the uncertainty of this mortal life + being of sound mind and memory do make and publish this my last Will and Testament in manner + form following that is to say:
First, I give and bequeath unto my two sons Dewitt C. Leonard + Henry B. Leonard + unto my daughter Eliza Jane Sawyer the sum of two hundred dollars each, to be paid to them from the proceeds of the real or personal estate I should be possessed of at the time of my decease + to be paid to them within a reasonable time after my decease for their use forever.
Second, All the rest and residue of my real + personal estate not herein before given + bequeathed after payment of debts, funeral expenses + e I give unto my five children Dewitt C. Leonard, Henry B. Leonard, Eliza J. Sawyer, Roxanna Spencer, + Maria Peck to be equally divided between them, that they share + share alike for their use forever and I do here by constitute and appoint Augustus B. Kendall of the Town of Newfane, sole executor of this my last Will and Testament hereby revoking all other heretofore made wills by me.  Witness my hand + seal the twenty eighth day of May in the year of our Lord one thousand and eight hundred and eighty.
James H. Leonard (Seal)
The above instrument consisting of one half sheet of paper was now here subscribed by James H. Leonard the testator in the presence of each of us + was at the same time declared by him to be his last Will and Testament + we at his request signed our names there to as attesting witnesses.
Anthony McKee residing in Newfane Niagara County NY
Martha A. McKee residing in Newfane Niagara County NY