This is definitely not a very informative obituary, but it's an obituary nonetheless. Peter Sanchez was a brother to my great-great grandfather, Frederick Sanchez-Tereso.
This was a clipping pasted together with other obituaries – I believe it was probably in the Sigourney, IA newspaper.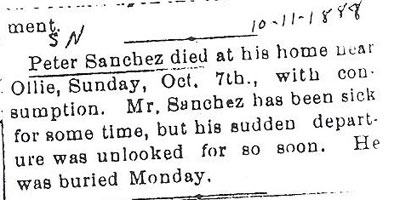 11 Oct 1888
Peter Sanchez died at his home near Ollie, Sunday, Oct. 7th, with consumption.  Mr. Sanchez has been sick for some time, but his sudden departure was unlooked for so soon.  He was buried Monday.