Jeremiah Wade was my 6th great-grandfather. I found his will on my trip through Bedford County, VA in 2010.
I love how clear this document is – nothing is faded, it's written in large lettering, and it's so easy to read! If only all of the wills I have could be so simple. 🙂
The only thing that disappoints me about this will is that he doesn't list out his children – he simply wanted an equal division amongst his children.
The transcription follows the images.  I hope there is another Wade researcher out there that will find this useful!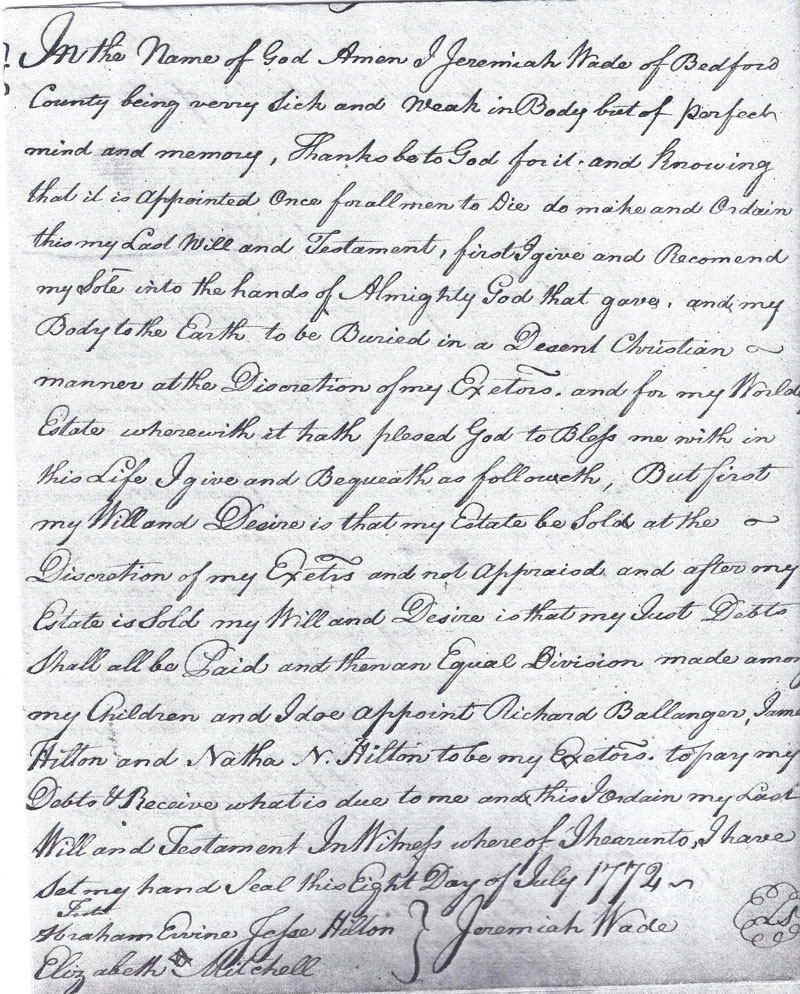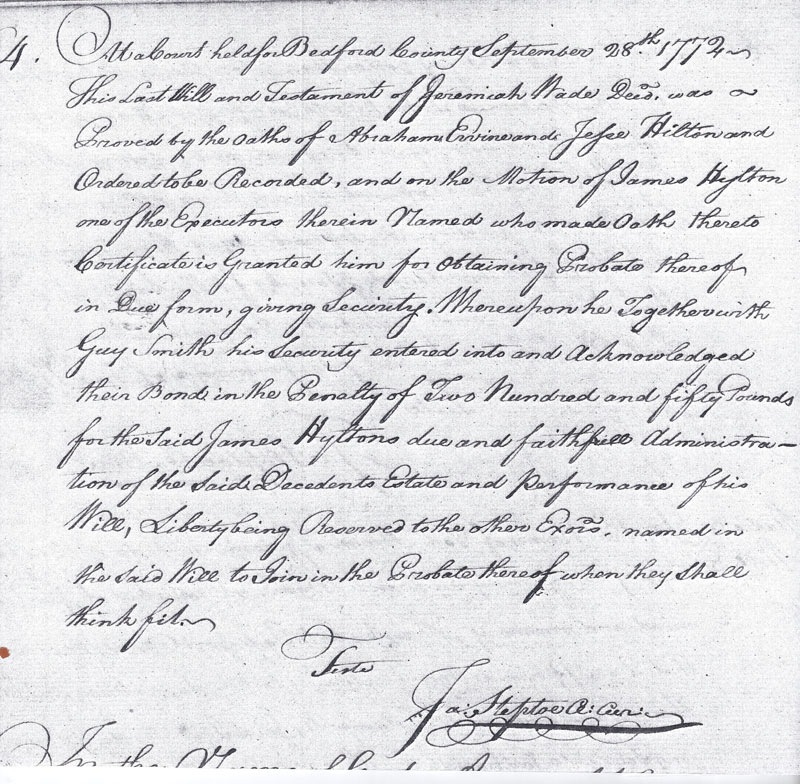 In the Name of God Amen I Jeremiah Wade of Bedford County being verry Sick and Weak in Body but of perfect mind and memory, Thanks be to God for it – and knowing that it is appointed Once for all men to Die do make and Ordain this my Last Will and Testament, first I give and Recomend my Sole into the hands of Almighty God that gave, and my Body to the Earth to be Buried in a Desent Christian manner at the Discretion of my Exetors. and for my Worldly Estate wherewith it hath plesed God to Bless me with in this Life I give and Bequeath as followeth, But first my Will and Desire is that my Just Debts Shall all be Paid and then an Equal Division made among my Children and I doe appoint Richard Ballanger, James Hilton and Natha N. Hilton to be my Exetors. to pay my Debts + Receive what is due to me and this I ordain my Last Will and Testament In Witness whereof I hearunto I have Set my hand Seal this Eight Day of July 1772
Teste
Abraham Ervine
Jesse Hilton
Elizabeth Mitchell}              Jeremiah Wade [seal]
_________________________________________
At a Court held for Bedford County September 28th 1772 This Last Will and Testament of Jeremiah Wade Dec'd was Proved by the oaths of Abraham Ervine and Jesse Hilton and Ordered to be Recorded, and on the Motion of James Hylton one of the Executors therein Named who made Oath thereto Certificate is Granted him for obtaining Probate thereof in Due form, giving Security.  Whereupon he Together with Guy Smith his Security entered into and Acknowledged their Bond in the Penalty of Two Hundred and fifty Pounds for the Said James Hyltons due and faithfull administration of the Said Decedents Estate and Performance of his Will, Liberty being Reserved to the other Exers. named in the said Will to Join in the Probate thereof when they shall think fit.
Teste
Jas Steptoe Cl.: [?]