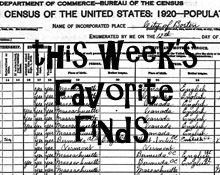 Has anyone else been super busy these past few weeks?  I am exhausted from all of the parties and functions and picture-taking and photo editing.  Phew!
I'm looking forward to the next week – watching the kids open their presents, eating lots of yummy food, and just spending time together with my family.  We're even supposed to get a little bit of snow today – not that it will actually stick, but I'm sure it will close down the roads anyway.  It is El Paso after all.
I'm hoping that I get the chance to sneak in a mini scan-fest sometime this week also.  I have so many documents waiting to be digitized and entered into Legacy that I don't even like to think about it.  I'll feel much better when they are safely stored on my computer – and backed up on Mozy – and sent on discs to my mom. 🙂
I ended up missing Follow Friday last week.  Time just got away with me.  I've been doing a lot of photo shoots for friends and neighbors – everyone wants pictures for their Christmas cards, naturally. 🙂  It's been really nice to get practice in a stress-free environment with people I know.  And I'm being paid in baked goods, wine, and restaurant gift cards.  It looks like I need to spend some more time on the treadmill!!!!
Anyway, let's get to this week's favorite finds (or I guess the past two weeks' favorite finds!):
 And as always,  a few pictures to share from this past week.  We happened to attend a wonderful Christmas party at our friends' house last weekend.  They are from Australia and really know how to entertain.  Seriously.  There were fire dancers performing for us in her backyard.  It was pretty darn amazing.  Enjoy the pictures!!