Philip Thornton was my 3rd Great-Granduncle – brother to my 3rd great-grandfather, James Patrick Thornton.  They were both born in Ireland and immigrated to Illinois.  James moved on to Hubbard, Nebraska in later years, but Philip stayed in Alton.
This was one of the treasures I found in Philip's probate records.  He owned a grocery store in Alton, Illinois.
It was neat to see his letterhead, even though it seems to have been crossed out for the purpose of this letter.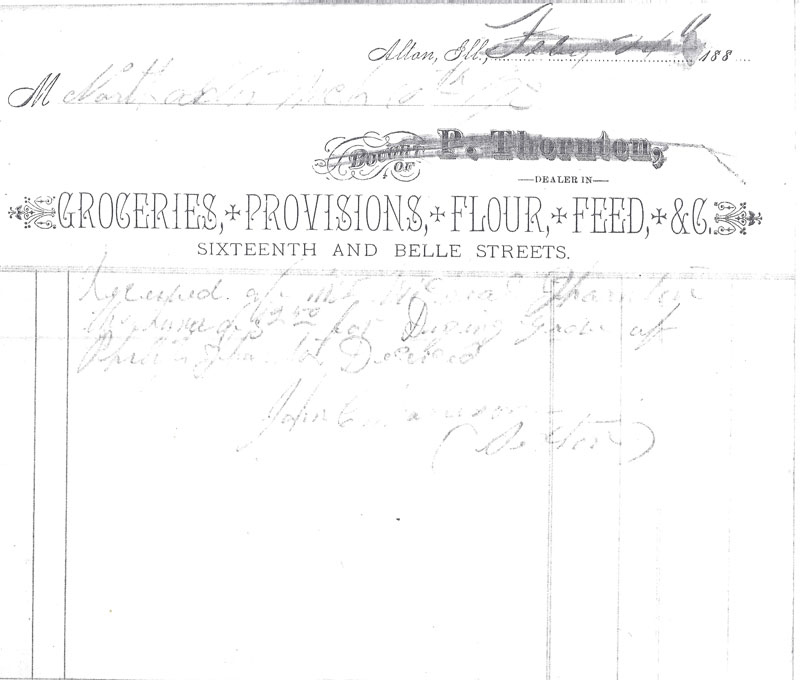 I looked on Google Maps to see where the store was located. It looks like Belle Street may have moved a little bit over time – and that a residential area is where part of Belle Street used to be. Looking at the corner of Belle and 16th streets, it doesn't seem like this was a very busy urban area. It must have been a country store. There are a couple of structures there on what was the corner – I wonder if one of these could have been the store??  Probably not, considering he was a grocer in the 1870's-80's time period.  The building is most likely long gone.