I love it when I find a document that has my ancestor's signature on it.  There's just something about knowing that they were the one that wrote that.
I was happy to find these signatures in a probate packet for Sophia Ross Pottgen (my 4th great-grandmother).  It was dated 1877.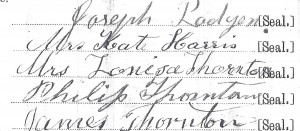 Joseph Padgen, Kate Harris, and Louisa Thornton (my 3rd great-grandmother) were her 3 children.  James Thornton was Louisa's husband and Philip was his brother.  They lived in Alton, Illinois – not too far from St. Louis, Missouri.
It's always interesting to me to see the different ways that Pottgen is spelled – and it makes me wonder if this is the reason that I have a hard time finding them.  Besides being on both sides of the river (in the St. Louis area and in Alton, Illinois) the name also seems to have been spelled in various ways: Padgen, Potgen, Poettchen, Poettgen, Pottgen, Patkin, Podgen, etc.