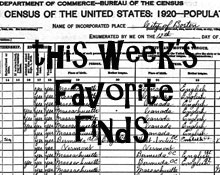 What a busy week!  I didn't get much genealogy done this week, because I did 5 photo shoots!! My computer time this week was spent editing photos instead of doing research.  I'm not a professional photographer (far from it!) but I have been taking family photos of friends in my neighborhood – mostly for Christmas cards.  It's been a lot of fun and I've gotten the chance to get some practice on people that actually want their pictures taken.  My kids have learned to run when I pull out the camera. 🙂
I fully intend on actually blogging and researching this week!!
On to my favorite finds….
And a few pictures I'd like to share from our trip to the zoo this week (it was warm enough for T-shirts!)…