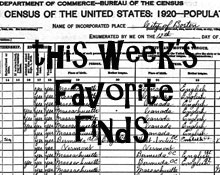 What a busy week!  I didn't get much genealogy done this week, because I did 5 photo shoots!! My computer time this week was spent editing photos instead of doing research.  I'm not a professional photographer (far from it!) but I have been taking family photos of friends in my neighborhood – mostly for Christmas cards.  It's been a lot of fun and I've gotten the chance to get some practice on people that actually want their pictures taken.  My kids have learned to run when I pull out the camera.

I fully intend on actually blogging and researching this week!!
On to my favorite finds….
Have you checked out Historypin?   It's so fascinating to me.  I'd love to try adding a few of my pictures to this site!!  Have any of you done this yet?
Registration is open for the 2012 NGS Conference in Cincinnati this May.  I would really love to go, but we're going to be preparing for a move in June and my husband is in class – which means I have no babysitter for a week.  Last year's conference worked out perfectly for me  – we were in the middle of a move from Savannah to El Paso and it happened to be in Charleston.  Perfect timing!  This year, not so much.  I think I'll have to hold out for another one, closer to home and at a more convenient time.
I'm really enjoying reading everyone's Advent Calendar of Christmas Memories posts.  I might jump in here and there throughout the month as I feel inspired.
Greta is going to be posting an ornament a day instead of the advent calendar (since she already participated for 2 yrs).  I love collecting ornaments from different places we've lived and am excited to see what treasures she has on her tree.
Heather Rojo, of Nutfield Genealogy, posted a treasure in her father's college paper on the Underground Railroad in MA.  
I loved the old picture of school recess in Copperopolis over at Family History with Lineagekeeper.  Old school pictures mesmerize me for some reason.  And I love to say "Copperopolis" – what a fun name!
And a few pictures I'd like to share from our trip to the zoo this week (it was warm enough for T-shirts!)…